Children under 10 treated for drugs and alcohol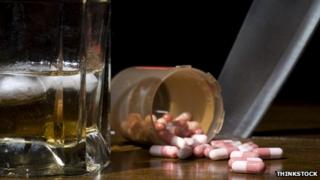 Children aged 10 or lower are among hundreds of youngsters being referred to specialist drug and alcohol treatment services, an investigation by the Press Association (PA) has found.
The investigation found that 15 local authorities had referred at least one child aged 10 or lower for treatment in the past three years.
In South Ayrshire, referrals included one case involving a four-year-old.
Drug education charities said the figures were "shocking".
The data was based on responses from 140 authorities in England, Wales and Scotland following Freedom of Information requests by PA.
The authorities that said they had referred children aged 10 or lower included Waltham Forest and East Ayrshire, which both requested assistance for children aged eight.
Twelve other authorities asked for help with children aged nine or 10.
Vulnerable
Experts say most youngsters come into contact with drugs and alcohol through parents.
A referral can mean the child has started abusing substances themselves or - as PA said was the case with the four-year-old in south Ayrshire - it can mean the child is vulnerable to drug and alcohol misuse through exposure from a parent or other relative.
A government spokesman said the current science curriculum covered how drugs could affect people's health and lifestyle.
He said: "Both the old and the new curriculum are clear that all pupils should be taught about how drugs and other substances can be harmful to the human body.
"Teachers are also free to use their professional judgement to address any specific issues that meet the needs of their pupils through PSHE [personal, social, health and economic] education.
"We are working with the PSHE Association to help teachers talk about these issues with pupils in the most effective and sensitive way."
Peer pressure
Paul Tuohy, chief executive of Mentor UK, a charity which works to protect children from drug and alcohol misuse, said the results of PA's investigation were "shocking".
He said: "Putting 'drugs' into the science curriculum won't teach children the skills they need to resist peer pressure and we hear from teachers desperate for advice and help to teach young people about drugs in a meaningful way.
"Drug education is not just about how drugs affect your body - it's about building confidence and resilience to deal with the risky situations you encounter as you grow up.
"Drug education should be mandatory, and part of the PSHE curriculum," he said.
Some 366 children aged 12 or under were referred for drug or alcohol treatment in 2012/13 in England, according to the most recent figures from Public Health England, down from 433 in 2011/12.