Channel Tunnel train services return to normal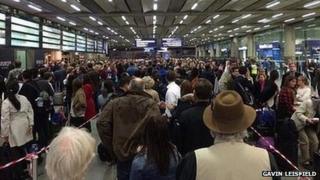 Channel Tunnel rail services have returned to normal on Friday following severe disruption.
Many trains between London, Paris and Brussels were delayed or cancelled on Thursday after technical problems and a fatality near Lille in France.
The disruption came at the start of one of the busiest travel weekends of the year.
An estimated 3.4 million people are taking a holiday in Britain over the Easter weekend.
Passengers who were not able to travel through the Channel Tunnel on Thursday have been advised to rebook their journey or apply for a refund.
But Eurotunnel has warned it would not be able to sell tickets for Friday to customers without a reservation.
Meanwhile, Eurostar said there would be "limited availability" on Friday with most trains already at capacity.
The company operates services from London St Pancras, Ashford and Ebbsfleet in Kent, Paris and Lille in France, and Brussels in Belgium.
Eurotunnel, a separate company, runs the Le Shuttle service for motor vehicles between Folkestone and Calais.
Eurotunnel said both rail tunnels were open with its UK terminal operating four departures an hour.
It said there was no waiting time at the terminal, however "due to high volume of traffic, there is a waiting time of approximately 30 minutes before check-in".
Its French terminal was operating to schedule with up to four departures per hour, it said.
The company was forced to run trains through the night in order to minimise delays.
'Rebook your journey'
Eurostar spokesman Leigh Calder said the firm was "incredibly sorry" for Thursday's disruption, especially as so many passengers had been trying to get away for the Easter weekend.
He confirmed that 14 out of 44 Eurostar trains due to run on Thursday - which can each hold 750 passengers - had been cancelled.
Late on Thursday, a statement published on Eurostar's website said passengers with a train ticket for Friday should "check in as normal".
People who had been unable to travel on Thursday would "need to rebook your journey but please bear in mind that our services have very limited availability".
"Alternatively, Eurostar will provide a full refund," the company added.
Rachel Richardson, who had been due to take her fiance to Paris for his birthday, told the BBC the communication from Eurostar staff at London St Pancras regarding the delays had been very poor.
"Nobody felt the need to explain to the masses exactly what was happening despite us all having queued for hours. To my annoyance, a relative telephoned to let me know that an automated message from Eurostar had been left on the answer machine 15 minutes before our Eurostar's scheduled departure.
"I had planned our trip to Paris for some time, buying train tickets in advance and organising a hotel near the Gare du Nord.
"I have now been charged by the hotel for this room and at the same time had to seek alternative accommodation for Thursday night. Not to mention the wasted train tickets I bought to get me to the station."
Busy roads
Elsewhere, engineering work on parts of the UK's rail network is affecting Easter services to and from a number of major hubs, including London's Charing Cross, London Bridge, Paddington and King's Cross stations.
Southampton Central and Sheffield are among other major stations where services will be affected over the weekend.
Greg Hallsworth, from traffic information firm Inrix, said the roads were quieter on Friday, but there are still problems in some areas.
Long delays have been caused by high volumes of traffic on the M5 southbound, between junctions 13 and 20, the Highways Agency said.
There are also delays on the M1 southbound in Derbyshire between junctions 29 and 28 following an accident.
The AA and traffic information firm Trafficmaster estimated 16 million cars would be used over the holiday weekend.
Are you affected by the Eurostar delays? Send us your comments. You can email us at haveyoursay@bbc.co.uk using the subject line 'Eurostar'.