Rebekah Brooks's former PA accused of inventing evidence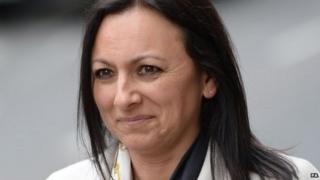 Prosecutors at the phone-hacking trial have accused Rebekah Brooks's former assistant of inventing her evidence and being dishonest.
Cheryl Carter is accused of retrieving boxes of notebooks belonging to Mrs Brooks and destroying them in an effort to pervert the course of justice.
But Mrs Carter said the boxes contained mostly her own belongings despite being labelled as holding former News of the World editor Mrs Brooks's notebooks.
Both women deny the same charge.
Earlier, Mrs Carter told the phone-hacking trial she would never commit a crime for her ex-boss.
The 49-year-old, of Chelmsford, Essex, worked for nearly two decades as a personal assistant to Mrs Brooks, who was editor of the News of the World, then the Sun, and then chief executive of News International - which owned the newspapers.
'Shouldn't worry'
Asked by her counsel, Trevor Burke QC whether she would ever break the law for her former employer, she answered: "No, I would not commit a crime for Rebekah Brooks."
She added that Mrs Brooks had never asked her to.
Mrs Carter had asked her son and a colleague's husband to help her pick up seven boxes of notebooks from the News International archive - on the day after the closure of the News of the World had been announced in July 2011.
She said she would never have involved her son in a criminal conspiracy.
Mrs Carter, who was at times very emotional in giving her evidence, described how police investigating the disappearance of the seven boxes searched her home in Essex.
She confirmed she had phoned Mrs Brooks at the time.
"I told her the police had been and asked about some archive boxes but she shouldn't worry because it was my stuff," she said.
Mrs Carter had told the court on Tuesday that the boxes contained her own work and belongings - including cuttings and scrapbooks from the six years she wrote a beauty column for The Sun.
She said the boxes had been labelled as Rebekah Brooks's notebooks because they contained just one notebook that Mrs Brooks had given her when she joined her staff in 1995, and one telephone "record book" labelled with the year 2007.
Prosecutor Andrew Edis QC put it to Mrs Carter that the boxes labelled as Mrs Brooks's notebooks were "what it said on the tin". Mrs Carter denied this.
When he suggested her evidence was dishonest, Mrs Carter said: "I was brought up very well. I'm not dishonest."
The defendant became emotional when she was accused of "inventing" a memory of how she packed up the boxes following her police interview.
"Mr Edis, I got dragged out of my bed at 7. I got watched while I went to the toilet, watched while I got dressed," Mrs Carter said.
"I was told I would be handcuffed and put in a cell for four or five hours. I was cold. I was scared.
"Yes, I did get things wrong. I tried my very best."
Boot camp
Mrs Carter also rejected an assertion that she had lied about Mrs Brooks being in the office on the day she collected the boxes of notebooks.
The court heard that in police statements made in November 2011, Mrs Carter told police Mrs Brooks was not at work on that day, but at a "boot camp" with her personal trainer.
Under questioning, Mrs Carter agreed that when she made the police statement she did not know that they knew the date the boxes had been picked up.
Mrs Carter is one of seven people on trial in connection with the phone-hacking affair, which led to the News of the World's closure in 2011.
Mrs Brooks, 45, of Churchill, Oxfordshire, denies conspiring to hack phones and conspiracy to commit misconduct in public office.
All seven defendants in the case deny the various charges.
The trial continues.