Met chief says police face 'Catch-22' over sex abuse claims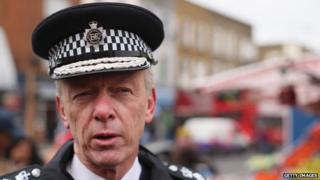 Officers face a "Catch-22" situation over historical sexual abuse claims, the Metropolitan Police chief has said.
Commissioner Sir Bernard Hogan-Howe told the BBC police were criticised if they did not take allegations seriously yet condemned for pursuing them.
He spoke after the Director of Public Prosecutions (DPP) defended trials brought after the Jimmy Savile scandal.
Last week DJ Dave Lee Travis was cleared of 12 indecent assault charges dating back to the 1970s.
The jury was unable to agree verdicts on two other counts.
Coronation Street actor William Roache was also recently cleared of historical rape and indecent assault charges.
'Look back'
Responding to DPP Alison Saunders writing in the Times, Sir Bernard told BBC Radio 5 live: "I think we are in a bit of a Catch-22.
"If we ignore the new claims of historical events, we're told that we are wrong.
"If we investigate to the point of charge - we are challenged - did you go too far? And I think we have got to take these things seriously and the place to test it is called a court."
Sir Bernard said he was "comfortable" with prosecutions that had already been brought but added: "We will always look back and review whether we got it right. The CPS (Crown Prosecution Service) I'm sure will do that with us.
"One of the difficulties you have of course is a jury gives a verdict not a reason. So what you don't understand is what they didn't find persuasive."
While there are difficulties investigating non-recent cases such as lack of forensic evidence, Scotland Yard will continue to do so, said the commissioner.
"We, the police, were criticised 20, 30 years ago that when victims came forward we didn't listen," said Sir Bernard.
"Now victims are coming forward, we are listening and we're trying to get the evidence together to substantiate the claims."
Mrs Saunders told the Times: "To those who say recent high-profile acquittals show that police and prosecutors are overcompensating for past failings, I say quite simply that we are not.
"If we took to court only cases where, on the papers, we were certain of a conviction, we would rightly be accused of being over-cautious.
"Justice can only be done if prosecutors remain independent and fair, regardless of who a defendant might be."
She added: "So long as our criminal justice system is working effectively, we will continue to see acquittals in these types of cases. But we are also seeing convictions."
Mrs Saunders, who took over as DPP in October, also condemned "new myths" that some sexual abuse victims were motivated by money.
She said: "It used to be that if a rape victim wore a short skirt, her credibility was undermined. Thankfully, we have moved on.
"Now we must be careful not to establish new myths that victims come forward only for financial or other motives."