Hundreds set to attend protest meeting over legal aid cuts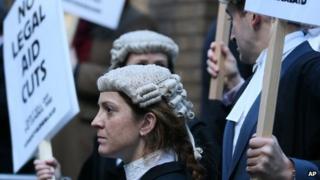 Hundreds of barristers, solicitors and law students are due to meet to discuss opposition to proposed legal aid cuts.
Legal professionals who say the plans represent a "grave threat" to justice and will come together at a protest event at Lincoln's Inn in London.
They say cuts are "unnecessary" and a "false economy".
The Ministry of Justice (MoJ) says it is vital to cut the legal aid scheme, which it says will be "very generous" even after the changes.
The meeting has been organised by the Bar Council, which represents barristers in England and Wales.
It fears the government's proposals will hit vulnerable people who are in need of legal representation.
Nicholas Lavender QC, chairman of the Bar Council, said: "This is a vital opportunity to demonstrate that the whole profession stands together in support of the rule of law and access to justice."
Severe financial pressure
Legal aid costs taxpayers about £2bn every year - half goes on criminal defence and the rest on civil cases.
The government is proposing, from April, to cut the scheme by £220m. It plans to cut fees in complex and high-cost cases by 30% and in other crown court work by up to 18%.
The Bar Council says the meeting is the profession's last chance to talk through its concerns before the MoJ announces the outcome.
The event will include speakers from across the legal profession.
Mr Lavender added: "The greatest victims would be the public interest and the society which we seek to serve."
An MoJ spokesman said it had to find efficiencies to ensure the legal aid scheme "remains sustainable and available to those most in need of a lawyer".
The government has denied the legal aid scheme is being singled out for cuts.
The spokesman said: "We do not underestimate the challenge reform presents for lawyers but there is severe financial pressure that makes it necessary."