British paratroopers to mark D-Day 70th anniversary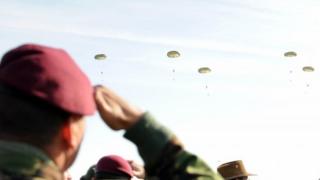 This year's 70th anniversary of the D-Day Normandy landings is to be marked with a mass parachute jump in France, the Ministry of Defence has said.
The tribute, taking place on 5 June, will be carried out by members of the 16 Air Assault Brigade.
The jump is being held over the village of Ranville, in Normandy, which was liberated by the British 13th Parachute Battalion in 1944.
It is one of a series of events being held to mark the anniversary.
Defence Minister Lord Astor said: "I'm delighted that the Ministry of Defence will be supporting the veterans of this historic campaign as they gather to remember on the beaches of Normandy.
"The 70th anniversary will be an occasion for us all to pay fitting tribute to those who fought for the liberation of Europe, and I know that our servicemen and women will be honoured to take part."
Ranville was the first place to be liberated in France on D-Day, and the parachute jump will be followed by a memorial service.
On 6 June, a further service of remembrance will take place at Bayeux Cathedral followed by a special event at the Bayeux Commonwealth War Graves Commission Cemetery.
The Normandy Veterans Association has said that this year's tributes will be the last it will officially mark before it is disbanded.
National secretary for the group, 89-year-old George Batts, said: "We are disbanding because we are losing too many members. We used to have 15,000, but we're now down to less than 600."
D-Day took place on 6 June 1944 and was the first stage in the liberation of Europe from Nazi rule.
More than 80,000 British and Canadian troops took part in the invasion and around 3,000 Allied troops lost their lives.
The MoD said veterans wishing to return to Normandy in June will be able to apply for financial support from the Big Lottery Fund.