Dave Lee Travis trial: BBC 'ignored woman's complaint'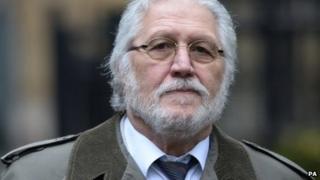 A woman who claims she was assaulted by DJ Dave Lee Travis has told a court she was not listened to by the BBC.
The woman told Southwark Crown Court he put his hand inside her knickers when she was aged 17 while presenting his Radio 1 show in the mid-1970s.
She said she complained to the BBC, her ex-employer, after claims about Jimmy Savile emerged, but was told that it did not take such calls.
Mr Travis denies 13 counts of indecent assault and one of sexual assault.
Empty studio
The woman, who cannot be identified for legal reasons, told the court she was too embarrassed to tell anyone at the time of the alleged indecent assault.
She said she called the director general's office at the BBC to complain about Mr Travis, who is being tried under his real name of David Patrick Griffin.
Giving evidence from behind a screen, the witness told jurors: "They [the BBC] said 'We are not taking calls of this nature' - so I felt like the BBC had slammed the door in my face. I was surprised."
The woman said she then went to the police and was also interviewed by the Daily Mail.
Of the BBC, she said: "To this day I haven't had so much as an acknowledgement, so much as an apology."
The court was told the woman was taking legal action against the BBC.
'Struck dumb'
The woman told the court Mr Travis invited her into his empty studio while a song was playing.
She said he turned the lights off before holding her close to him in a slow dance and he became aroused before assaulting her.
The alleged victim, who had a clerical role in the BBC's Broadcasting House, said she had been "star-struck" by Travis when she saw him in the studios previously and he twice gave her a lift in his car.
She told the court she felt "confused" as Travis held her close as they danced: "I was struck dumb a bit, I just didn't expect it. I wasn't sure what to do."
The alleged victim said she realised she could reach the handle of a door to escape.
She said she saw a technical operator for the show in an adjoining room and told him: "You won't believe what he's just done."
The woman said the man replied: "I thought you were a bit brave going in there."
She said because of his reaction and because she thought people might not believe her, she "didn't tell a soul" about what had happened.
'Big stars'
She told jurors: "These DJs were big, big stars. They were like pop stars. There would be crowds of people hanging around outside the building to see them. They were like demigods."
She said she thought the alleged incident took place in 1976 or 1977.
During cross-examination the woman was asked by Stephen Vullo, defending, what she said to his suggestion that her claims were an "absolute pack of lies".
She told jurors: "I would say that you're just doing your job, and I'm absolutely not."
Asked in court about her own criminal convictions for an assault on her former business partner, the woman said she had pleaded guilty but had been going though a mental health breakdown at the time.
Mr Vullo suggested the witness had come forward with the claims about Mr Travis for her own financial gain because of her money worries.
"I certainly did not," she said.
Earlier, jurors heard from another witness who described Mr Travis as a "sleazeball".
It followed a claim by a previous witness that Mr Travis put his hand up her skirt during a car journey.
Thursday's witness told jurors she saw the incident take place following a corporate event at which Mr Travis had been the DJ in the early 1980s.
Mr Travis, 68, of Mentmore, Buckinghamshire, is charged with counts of indecent assault between 1976 and 2003, and a sexual assault in 2008.
The offences allegedly occurred when he was working as a BBC DJ, on Classic Gold radio, on Top Of The Pops, and in pantomime.
The trial was adjourned until Friday.