Phone-hacking trial: Brooks email on Milly Dowler revealed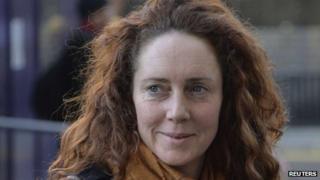 Rebekah Brooks described media reports that the News of the World had hacked murdered Milly Dowler's mobile phone as a "proper Guardian, BBC, old Labour hit", a jury has heard.
The description was sent in an email in 2011 to then editor of the Times, James Harding, the phone-hacking trial heard.
The News of the World and the Times were under her authority at the time as chief executive of News International.
Mrs Brooks, on trial at the Old Bailey, denies conspiring to hack phones.
'Exciting things coming'
The court heard Mrs Brooks emailed Mr Harding, who is now director of news at the BBC, on the morning of 5 July 2011 about a story in that day's Times.
The article was following up a story from the previous day's Guardian which reported the police were investigating claims that the murdered teenager's mobile had been hacked after she went missing in March 2002.
This jury has heard this is true and it is not disputed by any side in the trial.
The Guardian also claimed - later shown to be untrue - that messages had been deleted by the News of the World which led Milly Dowler's parents to believe she may still be alive.
The jury was told Mrs Brooks emailed Mr Harding to say: "Can you find out from Sean [O'Neill, Times crime reporter] how he knows page one/three are true. We have zero visibility on the veracity of these allegations... This is a proper Guardian/BBC/old Labour hit."
She went on to add that Labour MP Tom Watson "tweeted earlier yesterday that exciting things were coming".
'Just don't know'
Mrs Brooks ended the email by saying: "Our suspicion is Dowler numbers and address were in Mulcaire's [News of the World investigator] book but no evidence of actual hacking, and the Guardian have mixed up the Surrey police phone issues at the tie (sic) and put two things together. But we just don't know."
The email was read out as the jury heard details about an investigation into leaks by a police officer on the hacking team to a Guardian journalist in 2011.
Detective Constable Peter Cripps and Amelia Hill, of the Guardian, were both arrested but no further action was taken by prosecutors because they said it was not in the public interest.
Mrs Brooks also denies conspiracy to commit misconduct in a public office and conspiracy to pervert the course of justice.
The trial continues.