Phone-hacking trial: Mark Hanna 'burnt stuff', jury hears
20 January 2014

From the section

UK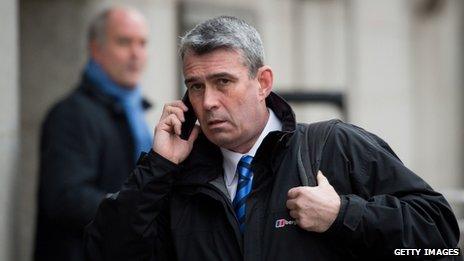 News International's ex-security chief told a colleague he "burnt stuff", during a discussion about the closure of the News of the World, a jury heard.
The Old Bailey was told Mark Hanna had been drinking with Robert Hernandez, a security guard, when he made the claim.
Mr Hanna, 50, denies conspiracy to pervert the course of justice.
He is one of seven defendants standing trial over allegations connected to phone hacking, which led to the demise of the Sunday newspaper in 2011.
'Didn't reply'
The court heard he and Mr Hernandez went for a drink after the final edition was published on 10 July of that year.
In the early hours of the morning Mr Hernandez says his boss told him he had "dug a hole in his garden and burnt stuff".
When he asked Mr Hanna what had been destroyed in the fire, Mr Hernandez told the court: "He just looked at me and did not reply and changed the conversation."
He had drunk four pints of lager while Mr Hanna had had a bottle of wine, Mr Hernandez told the court.
Later he said Mr Hanna had not told him when the fire had taken place and added: "For all I know he could've been burning bank statements."
Mr Hanna is on trial with the then chief executive of News International Rebekah Brooks and her husband Charles.
Ms Brooks, 45, denies conspiracy to hack phones, conspiracy to commit misconduct in a public office and conspiracy to pervert the course of justice.
'Rustling'
The prosecution says Mr Hanna conspired to pervert the course of justice by helping husband Mr Brooks and others conceal evidence from police.
The court was told Mr Brooks came to the couple's Chelsea home on 18 July 2011 - the day after his wife had been arrested - telling staff two bags had been dropped off for him the night before.
Among the contents of one brown, leather bag were correspondence, a USB stick, a dictaphone, and a laptop as well as a conker and a brown envelope containing the cases from pornographic DVDs.
More letters, a News International Apple laptop, an iPad, a 50p piece and a blue bag containing a bronze-coloured charm on a chain were found in the second black bag.
The bags were found by a cleaner inside a black bin liner.
Neil Perkins, a porter at the apartment block, said he saw Mrs Brooks's driver in the car park later that morning and heard "rustling" by the bins.
Mr Brooks, who denies the charges, is alleged to have threatened to sue security staff for handing over the bags to police.
The jury has previously seen CCTV footage which the prosecution says shows a sequence of events, orchestrated by Mr Brooks, in which the bags are hidden, picked up and then hidden again by Mr Hanna and other News International security staff.
The seven defendants deny all the charges they face.
The trial continues.