Cameron bids to be prime minister of mirth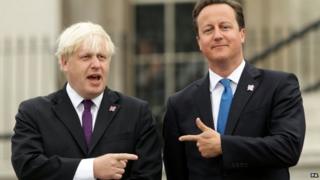 With dickie bows and high heels at the ready, it was the night Westminster's political journalists tried to emulate their Washington counterparts.
For almost 100 years, the White House press corps has held a dinner attended by the US president, who traditionally delivers his own jokes, poking fun at himself as well as his political opponents.
The event is televised live and has become affectionately known as the "nerd prom" for the audience it attracts.
So on a dark wet January night we made our way to the Members' Dining Room in the House of Commons.
It promised to be a rather dowdy version of its glitzy, American equivalent - no red carpet, Hollywood stars or Emmy award-winning comedians here.
They had Kevin Spacey, we had Tory MP Keith Simpson. They had Katy Perry, we had Harriet Harman.
Even Ed Miliband and Nick Clegg had turned down the invitation, apparently because they weren't being given a chance to speak.
So the pressure was all on David Cameron (or rather his speech-writing team) to come up with some decent jokes.
In the past, George W Bush has stood up at the Washington dinner alongside an impersonator ridiculing him for not being able to pronounce "nuclear proliferation;" last year President Obama produced Photoshopped images of himself sporting his wife's hair.
But whatever you think of David Cameron, he can deliver a good joke and does an uncanny impression of his old Oxford chum Boris Johnson.
"The last time I was at a dinner this posh Boris spent the rest of the night in prison," he quipped - a reference to the restaurant-trashing antics of the Bullingdon Club, of which they were both members.
Mr Cameron also told the story of a day spent canvassing with the London mayor, when a woman answered their knock on the door with the words: "Boris, you're the father of one of my children."
A moment's horrified flustering by Johnson was ended as she added: "It's your daughter - I'm her maths teacher."
The prime minister's priorities for the year, he said, were keeping his bald spot under control and keeping Norman Baker - the Lib Dem home office minister - off the TV.
The PM was also rather rude about Labour's Rachel Reeves (no, Harriet didn't laugh - at all really).
And he had a dig at his coalition partner Nick Clegg - "the product of the mean streets of Westminster and Cambridge" - and his efforts to differentiate his party from the Tories.
But he was almost nice about his biggest Commons adversary, Ed Balls, and his efforts raising money by running the marathon. They had a lot in common, he said.
"We both love The Sound of Music, we both love Delia Smith - for different reasons - and we both like the Antiques Roadshow.
"I like it for the heartwarming stories, Ed likes it when they sell the family silver."
As far as the members of the press were concerned, with the fallout from the Leveson Inquiry still rumbling on, they decided it was probably wise to be generous to their new "editor in chief".
And for those interested in the menu, it was salmon followed by lamb. With some extra culinary twists, obviously.