MPs want bingo tax cut to halt club closures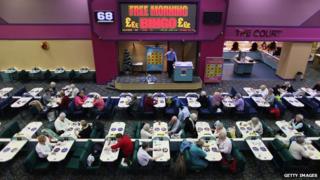 A group of 54 MPs is backing calls to cut gambling taxes on bingo.
Industry lobby group the Bingo Association say levies on the game should be brought into line with other forms of gambling.
Bingo halls' profits are taxed at 20%, compared with a 15% rate for bookmakers and fixed odds betting, and 12% on the price of a lottery ticket.
The government says it is reluctant to reduce the rate because its priority is to close the budget deficit.
But the Bingo Association argues the disparity in tax with other forms of gambling is contributing to the closure of bingo clubs at a rate of one a month.
'Social service'
The decline has also cost jobs, it says, with Gambling Commission figures showing the number of people employed in the sector down from 17,822 in financial year 2010-11 to 16,048 in 2012-13.
The Bingo Association says clubs bring people in the local community together.
Conservative MP Brian Binley, who chairs an all-party parliamentary group on bingo told the Independent on Sunday newspaper recently: "I see many people, many of them elderly, who find comfort and friendship - a hot meal at a low price in a warm and happy environment. And if that isn't social services, I don't know what is."
But the industry is being "stifled", the Bingo Association says, pointing out that clubs are unable to reclaim VAT on the costs of upkeep and refurbishment.
The 54 MPs backing the cut, who are from across the political divide, are due to make visits to their local bingo halls as part of the campaign.