Judge Constance Briscoe 'presented wrong statement'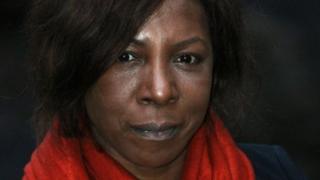 A judge made a "hopeless and desperate attempt" to mislead jurors by deliberately giving an expert the wrong copy of a statement, a court has heard.
Constance Briscoe gave the handwriting expert a copy of a witness statement under "false pretences" so his findings would be in her favour, it is alleged.
The charges relate to her role in exposing how ex-cabinet minister Chris Huhne swapped speeding points.
She denies three counts of intending to pervert the course of justice.
Prosecutors at Southwark Crown Court said Ms Briscoe, 56, of Clapham, helped her friend Vicky Pryce reveal information to the press.
The jury heard that Ms Briscoe had then tried to mislead the police and the court during an investigation into her actions.
She was arrested in October 2012 after making two statements to police during the Huhne investigation in which she denied any dealings with newspapers over the point-swapping story and misrepresented her relationship with Pryce.
Altered statement
When Ms Briscoe was later interviewed by police following her arrest, she maintained that both her witness statements were accurate.
"She said that she had never denied speaking to the Mail on Sunday. She continued to deny speaking to any newspaper about Vicky Pryce and the speeding points allegations," Prosecutor Bobbie Cheema QC said.
Ms Briscoe admitted knowing Mail on Sunday journalist David Dillon but denied making email contact with him. But when police told her they had copies of emails between her and him, she accepted she must have sent them.
The barrister produced a copy of her second witness statement, but the statement had an extra "I" in one sentence that suggested a different meaning.
The original statement read: "I am aware that a Mail on Sunday journalist called Dillon contacted Vicky Pryce and made several attempts to get her to talk about her life and Chris Huhne. She had refused to do so and I believe that instead a profile was published about her views on the economy."
But the second statement read: "She had refused to do so and I I believe that instead a profile was published about her views on the economy", which Briscoe suggested meant that she had also refused to have contact with the Mail on Sunday.
When confronted with emails showing that she had indeed had such contact with the newspaper, she submitted the document to her own forensic expert, Mr Maurice Rode who concluded the letter "I" was "an extraneous artefact" possibly caused by a printer malfunction.
A prosecution expert then examined the document and came to the same conclusion, but made a more significant discovery - that the document submitted to the expert was not the same document that had been produced in interview.
Miss Cheema told jurors: "We suggest that in the end, sadly, you may come to the conclusion that it was a hopeless and desperate attempt by this defendant to try to pull the wool over, as it happens, your eyes, because this was an expert report designed to be used in this trial had it not been false."
Former Energy Secretary Mr Huhne was jailed in March along with his ex-wife Ms Pryce, after she took speeding points for him in 2003. Both have since been released from prison.
Ms Briscoe, who is also a barrister, has been suspended since her arrest in October 2012.
She denies three counts of perverting the course of justice.
The trial continues.