Review into criminal offending by armed forces veterans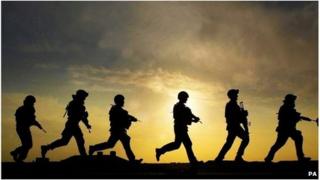 A review will be set up by the government to look into the reasons why some veterans turn to crime after they leave the armed forces.
Ministry of Defence figures suggest that former service personnel make up about 3.5% of the prison population.
The probe will also see how support could be improved for veterans given custodial or community sentences.
The review has been ordered by Justice Secretary Chris Grayling and will be headed by Conservative MP Rory Stewart.
Career soldiers
The latest figures, from an MoD study in 2010, also indicate that a similar proportion of veterans are on licence as are in prison.
Of those veterans who were convicted, almost all were men from non-commissioned ranks and 80% were career soldiers.
Mr Grayling said: "After leaving the armed forces the vast majority of veterans continue to make a hugely positive contribution to our country.
"But for a few the transition to civilian life isn't always straightforward, and some end up in the criminal justice system.
"I want to make sure that we take specific account of their needs and experiences and make sure that they get the right rehabilitation to get their lives back together again.
"It's the very least we can do for people who put their lives on the line for our country."
'Specific needs'
Defence Secretary Philip Hammond said armed forces veterans had made a "significant commitment to their country" and it was "right that the government should help support them when they hit tough times".
"That is why we should look at how we can improve the level of support and rehabilitation available to veterans who end up in the criminal justice system," he said.
Mr Stewart, the MP for Penrith and the Border, is a former serviceman who has worked as a local official in Iraq and with the voluntary sector in Afghanistan.
His review will also look at what advice and support is available to ex-personnel as well as how other countries deal with the situation. It is expected to last about six months.
He said veterans had made a "unique contribution" to society and people owed them a "huge debt".
"Their needs are specific, and it is an honour to have the opportunity to support veterans in this way," he said.
"I am very much looking forward to working with veterans' organisations, the armed forces and the Ministry of Justice to make sure we have the best programme for veterans in the world."