Grillo sisters' father arrested in Italy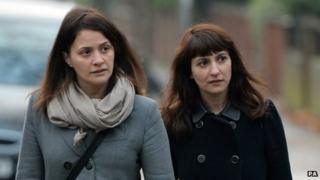 Nigella Lawson's former personal assistants' father has been arrested in Italy on charges linked to the mafia.
Michele Grillo, 66, was arrested following an investigation into the Barbaro-Papalia clan, based in the Calabrian town of Plati.
Reuters reported that he was arrested for conspiring to sell "large" amounts of cocaine and cannabis.
Sisters Francesca and Elisabetta Grillo were cleared of defrauding Ms Lawson and her former husband Charles Saatchi.
Accordng to Reuters, the 196-page warrant for his arrest says Mr Grillo is also accused of using threats of violence to extort 85,000 euros from the owner of a petrol station.
He also helped suppress evidence needed in criminal trials involving men allegedly tied to the clan, the warrant said.
Meanwhile, AFP reports that the charges include allegations of extorting money from nightclubs in Milan.
Prosecutors say he is the right-hand man of Agostino Catanzariti, who was also detained and is the ringleader of the group taking protection money from some of Milan's top clubs.
Mr Grillo previously served 15 years in prison for a kidnapping in the 1980s by the 'Ndrangheta organised crime syndicate, but claimed he had changed his ways and was now working as a truck driver.
The Grillo sisters were cleared in a trial in December which heard they spent £685,000 on credit cards owned by Ms Lawson and Mr Saatchi.
They claimed Ms Lawson allowed their spending to cover up her cocaine use.