Phone-hacking trial: Brooks PA 'did not rush to hide files'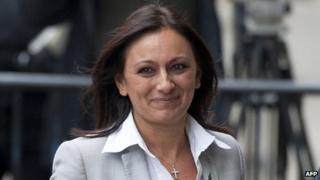 Rebekah Brooks' personal assistant told police she did not rush to get files out of News International's archive after the News of the World closed.
The closure was announced on 7 July 2011 after revelations of phone-hacking - and the next day Cheryl Carter asked for files marked in Mrs Brooks' name.
But in a police interview played to a jury earlier, she said the files were "mostly my stuff" and denied that she wanted them by a "certain time".
Ms Carter denies hiding evidence.
She worked for 16 years as personal assistant to Mrs Brooks, who was editor of the News of the World then the Sun, then chief executive of News International, which owns the newspapers.
Ms Carter is one of seven people on trial in connection with the phone-hacking affair, and tapes of two police interviews with her were played at the Old Bailey earlier.
"For my part I don't think I've done anything wrong," she told officers in one interview.
"At no point did anyone ever say 'don't do this, don't remove files'."
Police asked Ms Carter, who is charged with conspiracy to pervert the course of justice, why she told the archivist the seven boxes contained mostly her things despite being labelled "Rebekah Brooks notebooks".
She replied: "I don't know. I can't answer that."
Ms Carter, who repeatedly denied that she had been pressured by Mrs Brooks to retrieve the boxes, said she returned a diary, three notebooks and some other items to Mrs Brooks after sorting through them.
Police and prosecutors have claimed Ms Carter requested the boxes urgently on 8 July 2011, but she told officers she could not remember saying her request was urgent.
"I didn't want them by a certain time... just when he [archivist Nicholas Mays] could get them," she said.
Australian 'reward'
The court also heard Ms Carter was told she might be offered a job at another News International newspaper - the Sunday Times in Perth, Australia, where she planned to emigrate with her family.
After her arrest in January 2012, she told police her managers had said "maybe I could have a job" at that paper.
The prosecution earlier told jurors Ms Carter was "to be rewarded for moving the boxes by getting a job in Australia".
Jurors also heard Ms Carter was allowed to promote her own makeup business in the beauty column she wrote for the Sun.
The News of the World closed after it emerged that a private investigator had been hired in 2002 to "hack", or intercept, voicemails left on the mobile phone of murdered Surrey schoolgirl Milly Dowler.
There have been many allegations of the News of the World hacking celebrities and politicians, as well as some against the Sun.
All seven defendants deny the various charges. The trial continues.