South Sudan: British plane to resume evacuation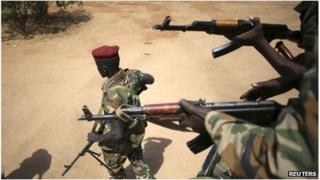 The UK is sending what is expected to be a final plane to help Britons flee the violence in South Sudan.
Fighting broke out in the capital Juba just over a week ago and has spread around the East African country.
UK Foreign Secretary William Hague said he remained "very concerned" about the situation in South Sudan.
The British government said it would struggle to help anyone who chose to stay behind after the flight from Juba to Dubai on Monday afternoon.
'Urge restraint'
Mr Hague urged British nationals to leave the "dangerous situation" in South Sudan, and has spoken to his counterpart, Barnaba Marial Benjamin, to call for "political reconciliation".
British military transport planes have been used to bring home two groups over recent days. A US rescue plane was fired on, leaving three American service personnel wounded.
Mr Hague said: "I remain very concerned at the situation in South Sudan. Increased political polarisation and inter-communal tensions are fuelling a dangerous situation.
"It is vital that all leaders urge restraint on their supporters and commit to a political resolution of their differences.
"I thanked minister Marial Benjamin for the assistance that the South Sudanese authorities and he personally have given to ensure the smooth turn-around of our evacuation flights this week.
'Scariest experience'
"I encourage any remaining British nationals to take advantage of the third flight that we are making available on 23 December."
Meanwhile, a British charity worker said it took five days and four attempts to get out of South Sudan to be at home with his family for Christmas.
Ben Bartlett, 23, from Durham, had been in the country since October working on clean water and sanitation schemes for aid organisation Tearfund.
He said: "This is the scariest experience I have had."
He and his colleagues spent a day lying low in their compound - eating emergency rations of luncheon meat and tinned pineapple - before starting to try to get out on Wednesday.
The airport opened and then closed again and flights were frequently cancelled.
On Thursday, just 30 minutes before he was due to leave, an incoming plane crashed on the runway.
BBC Africa reporter James Copnall said Juba had been relatively calm for several days but the fighting had spread to elsewhere in the country.
Former Vice President Riek Machar, who is commanding troops seeking to overthrow President Salva Kiir, now controls the towns of Bor to the north of Juba, and Bentiu which is next to many of South Sudan's oilfields.
International condemnation of the fighting has been strong. US President Barack Obama warned that anyone who came to power by force would not be recognised and aid money will be withdrawn.
Countries in the region have been leading mediation efforts as well, but at the moment the clashes continue.
The Foreign Office advises against all travel to South Sudan.
Britons wanting to leave South Sudan on the flight on Monday should contact the Foreign Office as soon as possible on +44 207 008 1500 or by email at crisis@fco.gsi.gov.uk