Jury goes out in Lee Rigby trial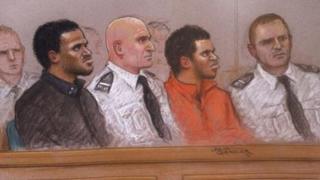 The jury in the trial of two men accused of murdering soldier Lee Rigby has retired to consider its verdict.
Michael Adebolajo, 29, and Michael Adebowale, 22, are accused of attacking Fusilier Rigby with a car before hacking him to death.
In his closing speech, the prosecutor said their actions were "indefensible in the law of this country".
The judge dismissed Mr Adebolajo's defence that he was a "soldier of Allah". Both men deny the charges.
The men face counts of murdering Fusilier Rigby and of the attempted murder of a police officer near Woolwich Barracks in south-east London on 22 May.
However, the men no longer face charges of conspiracy to murder a police officer.
'Political point'
In his closing speech, prosecutor Richard Whittam QC said the murder of Fusilier Rigby was "indefensible in the law of this country".
"Killing to make a political point, to frighten the public, to put pressure on the government or as an expression of anger is murder and remains murder whether the government in question is a good one, a bad one, or a dreadful one," he said.
Mr Adebolajo's defending barrister, David Gottlieb, told jurors that they "genuinely have a choice" to acquit his client, and that they will be under pressure "from outside, from the mob, from the world, to convict".
Regarding the attempted murder charge, Mr Adebolajo claimed that he ran at marksmen clutching a meat cleaver in a bid to get himself shot.
Michael Adebowale's defending barrister, Abbas Lakha QC, said he had taken a gun as he had the same aim.
'Cool, calm consideration'
"That is what both defendants intended - that they would be shot and therefore would achieve martyrdom," said Mr Lakha.
Mr Justice Sweeney told jurors that they must not allow emotion to influence their decision.
He said: "Guarding against speculation or emotion entering into your deliberations is particularly important in cases of this type. What's required of you is a cool, calm, careful and dispassionate consideration of the evidence."
The judge also told jurors the two men were discharged from any further consideration of one count of conspiracy to murder a police officer for each defendant, saying that it overlapped with the allegation of attempted murder.