Clive Goodman had royal phone books, court hears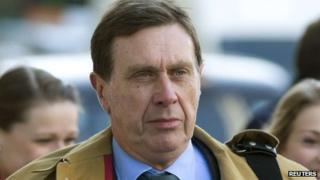 The then-royal editor of the News of the World was found in possession of telephone directories for the royal household that he should not have had, a court has been told.
Eight versions of the so-called green book were found at the home of Clive Goodman in 2006, the Old Bailey heard.
The directory is an A to Z of royal family members and addresses and phone numbers for household staff.
Mr Goodman, 56, denies conspiring to illegally buy the directories.
He and Andy Coulson - an ex-News of the World editor and David Cameron's former head of communications - face two allegations that they conspired together, and with other unknown people, to commit misconduct in public office between 31 August 2002 and 31 January 2003, and between 31 January 2005 and 3 June 2005.
The court heard that Mr Goodman, from Addlestone, Surrey, was also found by police to have seven internal telephone directories from the royal household.
Those directories had the internal extension numbers of all the members of the royal household staff.
'Unaware' of discovery
Michelle Light, head of telephony at Buckingham Palace, said she had not been aware of the discovery of the directories at Mr Goodman's house until the police interviewed her in 2012 - almost six years after they were seized.
Under cross-examination, she said the internal directories did not contain secret or classified numbers.
A page from a 2002 directory was shown in court with redacted numbers for Sir Michael Peat, the then-private secretary and treasurer to Prince Charles, stud grooms, horse box drivers and "the swan warden, Prof Christopher Perrins".
Jonathan Spencer, the deputy comptroller of the Lord Chamberlain's Office at Buckingham Palace, told the jury that Mr Goodman had not been an authorised recipient of the green book.
About 900 copies of the green book are typically produced each year.
Mr Spencer said only "senior staff and members of the royal household" received a copy, not junior staff.
The Metropolitan Police's royal protection department also received copies, he said.
Like Ms Light, Mr Spencer also said that he had been unaware of the discovery of the directories at Mr Goodman's house until the police interviewed him last year.
The directories found in Mr Goodman's house dated from 1988 up to 2002, the court heard.
The green book has a warning on the inside front page saying it should not be shared with unauthorised people and that it should be shredded when an updated version has been received, the court heard.
As well as being accused of conspiracy to commit misconduct, Mr Coulson, 45, from Charing, Kent, denies phone hacking.
The trial continues.