Hacking trial: Private line 'accessed royal aides' phones'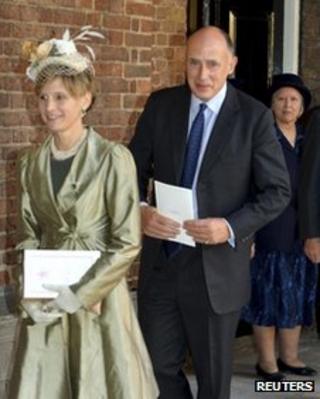 News International had a "private wire line" used to access people's voicemails, including those of royal aides, a court has heard.
Also among those allegedly targeted were publicist Max Clifford and the model Katie Price.
The phone-hacking trial also heard a senior executive at the now defunct media giant had his voicemail accessed.
Former News of the World editors Andy Coulson and Rebekah Brooks deny charges including conspiracy to hack phones.
The private wire enabled desk-based landlines to route calls through a mobile number, the court heard.
Hacking methods
The Old Bailey was told News International made 416 calls from the private line to the phone of royal aide Jamie Lowther-Pinkerton.
Mr Lowther-Pinkerton stepped down from his role as private secretary last year but still works with Prince Harry and the Duke and Duchess of Cambridge and is also godfather to the Duke and Duchess's young son Prince George.
The attempts to access his voicemail messages were all made in one year between 2005 and 2006, the court was told.
A further 296 attempts were made to hack the phone of Mark Dyer, former private secretary to Prince Charles, the jury heard.
Then deputy News of the World editor Neil Wallis had his voicemails hacked, the court heard, while two journalists from rival newspaper the Mail on Sunday and Labour former minister Tessa Jowell were also hacked from the line.
The court has previously heard from lawyers representing Mr Coulson and Ms Books that both claimed to have been hacked by private investigator Glen Mulcaire.
Jurors also heard an explanation of how to hack a mobile phone, with a police witness explaining three methods that could be used in the early 2000s.
Mrs Brooks, 45, of Churchill, Oxfordshire, denies charges of phone hacking, conspiring to commit misconduct in public office and conspiracy to pervert the course of justice.
Mr Coulson, 45, of Charing Kent, denies phone hacking, and two counts of conspiracy to commit misconduct in public office. Mr Goodman, 56, from Addlestone, Surrey, denies conspiracy to commit misconduct.
The trial continues.