Hacking trial: 'Brooks said Coulson might not survive in job'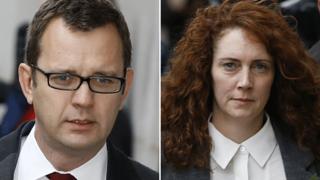 Rebekah Brooks told a friend of the prime minister that Andy Coulson might not survive in his job because of the phone-hacking row, a jury has heard.
Dom Loehnis told the phone-hacking trial Mrs Brooks had made the comment at a party to celebrate David Cameron's birthday at Chequers in October 2010.
Mr Coulson resigned as Mr Cameron's director of communications the following year.
He denies three charges including conspiracy to hack phones.
Mrs Brooks denies conspiracy to phone hack, conspiracy to commit misconduct in public office, and perverting the course of justice.
The court heard that Mr Loehnis had been concerned that the allegations about phone hacking at the News of the World - where Mr Coulson was editor before working for the Conservative Party - could harm the prime minister.
Mr Loehnis said he had asked Mrs Brooks whether she thought Mr Coulson would survive the press speculation at the time.
"She felt the story wouldn't go away and the reason for that was that at a certain point in time people had discovered you could get into mobile voicemails," he said.
"At that point in time, when people had worked it out, who knew how many people could have done it? It wasn't an easy story to close down."
Mr Loehnis added: "She said that she wasn't sure that he (Coulson) could survive."
Mr Coulson stepped down from the Number 10 role in 2011, stating the row over phone hacking was stopping him giving the "110%" he needed in the job.
Recalling the conversation about how phones could be accessed, Mr Loehnis said he could not remember the conversation exactly, but said: "I got the impression it was something that when you discover you can do it, you do it because you can."
Mrs Brooks had said that there was "one default code" on mobile phones - factory settings - that "nobody changed," the court heard.
"She said... If you rang someone's voicemail you were asked for a code. Some people rang it and got hold of voicemails."
Under cross-examination from Mrs Brooks' lawyer, Jonathan Laidlaw, Mr Loehnis said he agreed with his suggestion that it was common knowledge in the 1990s beyond Fleet Street that there was an issue with the security of voicemails.
Lawyer's email
The court was then shown a copy of an email sent from News International lawyer Tom Crone to Mr Coulson after allegations of phone hacking against private investigator Glenn Mulcaire and ex-royal editor Clive Goodman emerged in 2006.
It outlines what police allegedly told Mrs Brooks, who relayed the information to Mr Crone.
Mr Crone wrote: "They (police) are confident they have Clive (Mr Goodman) and GM (Mr Mulcaire) bang to rights on the Palace intercepts.
"Re GM: The raids on his property produced numerous voicemail records.
"The recordings and notes demonstrate a pattern of 'victims' being focused on for a given period and then being replaced by the next one, which becomes flavour of the week."
In it, Mr Crone adds: "They suggest that they were not widening the case to include other NotW people but would do so if they got direct evidence, say NotW journos directly accessing the voicemails (this is what did for Clive)."
Mrs Brooks, 45, of Churchill, Oxfordshire, denies charges of phone hacking, conspiring to commit misconduct in public office and conspiracy to pervert the course of justice. Mr Coulson, 45, of Charing Kent, denies phone hacking, and two counts of conspiracy to commit misconduct in public office. Mr Goodman, 56, from Addlestone, Surrey, denies conspiracy to commit misconduct.
The trial continues.