Phone hacking: Editor 'wanted Mulcaire payments stopped'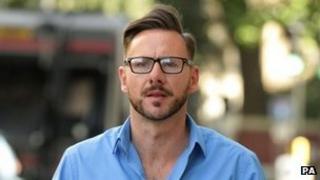 A news editor at the News of the World emailed colleagues saying payments to a private investigator "has to stop," the phone-hacking trial has heard.
Ian Edmondson, who denies charges of phone hacking, sent the email in February 2005 regarding Glenn Mulcaire's weekly £2,000 payment.
The court heard NoW journalist Greg Miskiw regularly commissioned Mulcaire.
Mulcaire continued working until 2006 and was later convicted for illegally accessing voicemails on mobile phones.
The Old Bailey jury was shown an email from Mr Edmondson to former NoW managing editor Stuart Kuttner, and then-editor Andy Coulson, in which he called for an end to using a reporter's "investigations man".
The message, sent shortly after Mr Edmondson joined the company in 2005, was headlined "Cost-cutting ideas" and included a sub-section on "Special Investigation Payment".
He wrote: "I have spoken out about this a million times and I don't think I need to say anything more."
The court also heard that James Morgan, who dealt with payments to the paper's contributors, had sent an email to Mr Kuttner a week later stating that Mr Edmondson had instructed that weekly payments of £2,019 to Mulcaire's company Nine Consultancy should be stopped.
'Quite strict'
Giving evidence Mr Morgan said: "I emailed the managing editor (Mr Kuttner). He was in charge of managing the money.
"It was part of my job to let him know of any changes. It was a weekly, regular payment and [I] was asked to stop it."
Asked about the way the budget was controlled, Mr Morgan said: "It was quite strict."
Mr Edmondson's lawyer Sallie Bennett-Jenkins QC suggested it had been "very well known that Mr Edmondson was doing all he could" to stop payments to Mulcaire.
But the court was told the payments continued, despite Mr Morgan's email to Mr Kuttner.
An investigator who worked for the paper for almost six years said he supplied phone numbers of people he had been asked to "trace," for example, finding out where they lived, and who they lived with.
Andrew Gadd told the court that he provided some numbers as part of the work he was asked to do by Mr Edmondson, but he said he was not asked to provide the numbers.
The court had previously heard Mr Gadd confirm that he had been asked to trace details of Lord Freddie Windsor, Tracey Temple and Kerry Katona.
But he told the court he had only actually met Edmondson three times - the latest in 2009 after details of phone hacking at the newspaper became public.
Mr Gadd, who the court heard was paid £218,669 for 231 invoices between November 2004 and December 2007, said: "I noticed it (phone-hacking revelations) in the papers and I mentioned it to him (Edmondson).
"He did mention it was historic and he had been worried about Clive Goodman. But he (Edmondson) didn't really seem to know a great deal about it."
Former managing editor Stuart Kuttner, 73, from Woodford Green, Essex, and former head of news Ian Edmondson, 44, from Raynes Park, south-west London, both deny conspiracy to intercept mobile phone messages.
Mr Coulson, 45, of Charing, Kent, denies the same charge, as well as conspiracy to commit misconduct. The former editor left the newspaper industry in 2007 and went on to become Prime Minister David Cameron's communications director.
Former news editor Miskiw and Mulcaire have already pleaded guilty to charges of phone hacking.
The trial continues.