Typhoon Haiyan: Stars at BT Tower for telethon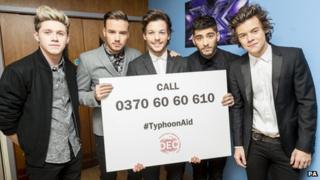 Boy band One Direction have joined other celebrities taking part in a telethon to raise money for the typhoon-hit Philippines.
Comedian Frank Skinner, chef Jamie Oliver and stars from talent show Strictly Come Dancing also took calls.
They joined the appeal at the BT Tower in central London, taking donations for the UK's Disasters Emergency Committee (DEC) - an umbrella group of charities.
DEC has raised £39m since Typhoon Haiyan caused thousands of deaths.
The typhoon killed more than 4,400 people and a further 1,500 are missing, UK Prime Minister David Cameron told MPs.
A number of UK nationals remain unaccounted for following the disaster, which has forced four million people to leave home.
An aid flight from the UK is expected in the region after leaving left East Midlands airport on Sunday evening.
Mr Cameron told MPs the UK was at the "forefront of the international relief effort", adding that the government had donated £50m.
One Direction's Liam Payne, who launched the telethon on Twitter, said: "The pictures I have seen of little children in between the ruins made my heart break.
"All of us in the band are shocked by how many people need help, so we're asking the public to continue to be as generous as they possibly can."
DEC spokesman Brendan Paddy said: "The British public have, yet again, been so generous.
"They have seen the unbelievably shocking footage from the Philippines and are showing a staggering amount of support and compassion."
Meanwhile, Royal Navy warship HMS Daring arrived in the disaster zone on Sunday.
The ship docked at the Philippine island Cebu after spending three days carrying out reconnaissance work using a Lynx helicopter ahead of international relief teams.
The UK government flight is taking medical supplies, water tanks and forklift trucks, along with emergency equipment for Save the Children and Oxfam.
Foreign Secretary William Hague has confirmed a number of Britons are missing following the typhoon.
They include Colin Bembridge, 61, from Grimsby, who was with his Filipino partner Maybelle, 35, and their three-year-old daughter Victoria near the city of Tacloban when the storm struck.
The Foreign Office said Mr Hague had spoken to his Philippines counterpart Albert Ferreros del Rosario.
A Royal Air Force C-130 Hercules aircraft will also be sent to help carry aid workers into difficult to reach areas, while the Royal Navy helicopter carrier HMS Illustrious is on its way to the Philippines to relieve HMS Daring.