Crown post office workers to strike again on 20 November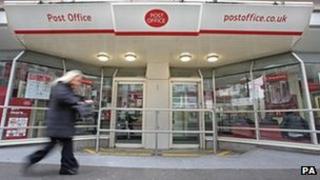 Staff in hundreds of larger Post Office branches are to stage a 13th round of strike action since Easter, the Communication Workers Union (CWU) has announced.
The half-day strike on 20 November will involve up to 4,000 staff in 372 Crown post offices, the CWU said.
The strike is the latest in a long-running dispute over jobs, pay and branch closures.
A further 2,000 CWU members working in supply chain will strike the same day.
Those taking industrial action, who also include administrative workers, will strike for 24 hours over pay.
On the same day, Crown post office managers who are members of Unite will also take industrial action.
The CWU said its members in the Crown offices would also not proactively sell Post Office financial services to customers for nine days from 21 November as part of the dispute.
A previous one-day strike planned for 4 November was called off after Post Office chief executive Paula Vennells agreed to hold talks aimed at reaching a settlement.
'Out of touch'
Dave Ward, CWU deputy general secretary, said the decision to call off the strike had "led nowhere".
"Post Office management still appear to have little urgency in wanting to resolve this dispute - meeting us only for half-days and not engaging with the key issues," he said
"If this runs on until Christmas, it will be entirely the company's fault.
"Post Office management is out of touch with its staff and customers over plans to close Crown offices and cut staff."
The Post Office has said the CWU was calling for above-inflation pay rises at a time the organisation was dealing with a loss of £116m.
Unite officer Brian Scott said his union had "been working hard to try to secure a deal" with the Post Office but it had not yet been possible.
Crown staff will walk out at 14:30 GMT on 20 November and supply chain staff will strike for 24 hours from 04:00 GMT.