Typhoon Haiyan: British Filipinos hold events for victims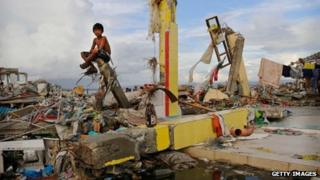 With more than 2,200 people killed and many thousands left homeless by Typhoon Haiyan in the Philippines, British Filipinos' thoughts are turning to ways, however small, that they can provide some help to those affected.
Fashion photographer John-Paul Pietrus, who is half-Filipino and half-American and has "lots of family" in the Philippines, said he wanted to raise awareness of the disaster, while doing something "personal" to help.
"My aunt's home town was completely destroyed and she lost some people. It made me feel quite powerless when I heard what had happened," he said.
He plans to raise money by selling limited-edition prints of model Naomi Campbell for £20 until midnight on Thursday. Proceeds will go to the Red Cross disaster fund.
Mr Pietrus, who is based in London, has worked with Naomi in the past and said she was a "natural choice" because of her links to the charity Fashion for Relief, which she set up in 2005.
"I gave Naomi a call and she was up for it," he said. "I chose this particular photo because she looks peaceful and strong and calm. I would like serenity to come to the affected areas of the Philippines, so it's very symbolic."
Joysel Livelo and her husband Miguel are putting on a fund-raising event at Bar Rumba in London for more than 200 people on 8 December and have booked former Sugababes singer Mutya Buena, whose father is Filipino, to help raise the profile of the event.
"I wanted to put something on to help the younger generation to get involved in raising money to help their families in the Philippines," Mrs Livelo said.
"As soon as I heard about the typhoon I started thinking of ways to help. Originally it was going to be a small party with local Filipino performers, but we've had such a huge response."
Mr and Mrs Livelo are both from the Philippines, but their families were not affected by the typhoon.
"Luckily our families live in Manila, so they're safe," Mrs Livelo said.
"Being Filipino, I knew that our community, which is very tight-knit, would help, but I didn't realise what an incredible response we'd get from British people overall. It's been overwhelming."
Michelle Gumayagay, a teaching assistant at Franciscan Primary School in Tooting Broadway, London, is planning to organise a cake sale and non-uniform day to raise proceeds to help survivors.
She said she was hoping and praying every day for news of her aunt and three children, who live in the Philippines but have not been seen since the typhoon hit.
"We're still looking for them," she said. "We're watching the news all the time and worrying because there's no electricity, no phone lines and no food.
"We check the list of names of survivors every day. We're just waiting, praying and hoping that someone will find them and get through to us."
Anz Densfor, who is from the Philippines, has organised a charity photoshoot in Kensal Green, London, on Saturday with proceeds going to the victims of the typhoon.
"I'm asking for donations from amateur and professional photographers who are coming to the photoshoot," he said. "I want to do what I can to help my people."
The Philippine Centre in Hounslow, west London, which had organised a fund-raiser to help those affected by last month's earthquake in Visayas, described news of the typhoon as "devastating".
It has now extended its event on 24 November in London to raise funds for the victims of the typhoon as well.
There are more than 120,000 Filipinos living in England and Wales, an estimated 25,000 of whom are working as nurses.
The Philippine Nurses Association of UK is holding an open charity donation day drop-in event at the Philippine Embassy, in London, on Friday and Saturday from 09:00 GMT to 17:00 GMT.
Michael Duque, the organisation's president, said that the drive, which is seeking useful items including canned food, blankets and tents, in return for 'prizes' such as the chance to have a professional photoshoot, was intended to help people "get involved" and "start off the mobilisation".
He told the Guardian newspaper that many nurses had chosen to help from the UK, rather than travelling back to the Philippines.
"Instead of spending £800 on an airline fare, they would rather donate it or send it to their family," he said.
Other events taking place include:
A special mass will be held at Westminster Cathedral on Friday at 17:30 GMT, led by Archbishop Vincent Nichols, the Archbishop of Westminster, in remembrance of the typhoon victims
A solidarity mass for survivors will take place on Saturday at 16:00 GMT at the Holy Redeemer Church in Oval, London
Greenwich Filipino Community's food-sale fund-raising campaign will be held Sunday at 10:00 GMT at St Peter's Church, Woolwich New Road, London
Two samba bands - Oya and Someone at the Door - will busk in Birmingham City Centre on 30 November. They will be joined by members of the local Filipino community