Terror suspect electronic tags 'damaged when praying'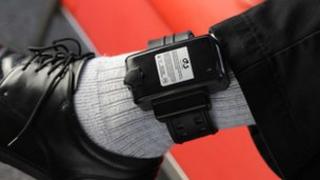 Lawyers for men who were charged with tampering with their electronic tags say they believe the devices have been damaged when the wearers kneel to pray.
Three terror suspects had been due to stand trial this week at the Old Bailey but the prosecutions were all dropped.
The men have been made to wear the tags under national security legislation.
Their lawyers say they have raised concerns with the Ministry of Justice about the design of the tags, made by the security firm G4S.
G4S said it was unable to comment on the case.
Earlier this year, G4S was one of two companies to pull out of bidding for new contracts for tagging criminals in England and Wales following claims it had been overcharging for the service. The company, however, stressed it was not aware any misconduct had occurred.
The men facing prosecution for tampering with their tags are all subject to the Terrorism Prevention and Investigation Measure (TPim) regime - introduced in January 2012 to replace control orders.
The seven-year-old control order regime monitored suspects but was criticised by civil liberties campaigners.
The men were each made to wear a GPS tag about the size of a mobile phone.
Lawyers for the men, who are all devout Muslims that pray five times a day, say they believe that when they kneel in prayer it is putting pressure on their tags resulting in damage to them.
The Ministry of Justice said there was no risk to public safety.
A spokesman added: "We have been made aware of concerns relating to a very small number of GPS tags currently in use which may be overly sensitive to tamper alerts. This has yet to be confirmed and we are working with our suppliers to establish whether this is an issue.
"These tags are entirely different to radio frequency tags currently used to monitor all other offenders. The new generation of GPS tags, due to be introduced in 2014, are also distinct and are currently subject to robust testing."