Newspaper review: Papers reflect on storm-battered Britain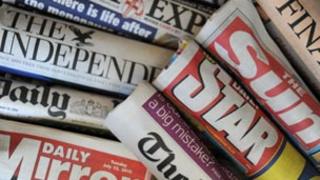 Tuesday's newspapers reflect on the storm that battered large parts of southern Britain on Monday.
"They had no chance" is the front-page headline for the Daily Mirror, as it focuses on those who died during what it calls the "storm terror".
The Sun says "Jude the Destroyer" caused tragedy and chaos - and left the nation with a £4bn bill.
The Daily Telegraph points out train firms are set to "cash in over cancelled services", with millions of pounds in compensation from Network Rail.
"Twitter storm helps bring order to chaos" is the Financial Times' take - saying many travel problems were mitigated by emails and tweets.
"More Killer storms on the way" is the warning from the Daily Star.
Energy 'price fix'
Away from the weather, many papers look ahead to the appearance of the "big six" firms before the Commons Energy Committee.
"Abuse of Power" is the headline for the Daily Mirror, which urges MPs to "put heat on the fatcats" after Monday's figures from Ofgem showed wholesale prices rose by less than 2% in the past year.
"Greed of energy giants exposed" declares the Daily Mail, which believes the revelations leave suppliers "open to allegations of profiteering".
For the Daily Star though, while the watchdog has barked, readers shouldn't hold their breath for it to bite.
Meanwhile the Telegraph publishes a poll showing - as it puts it - "even banks are more popular than energy giants".
Hacking
The Times' main story is that a vicar's son from Suffolk has been charged with stealing thousands of computer files from the US government.
Lauri Love, who is 28, is accused of being part of an international group of hackers that is alleged to have stolen information about the US Army, Department of Defense and Nasa. Experts, the paper says, believe it is "the most serious computer hacking case to date".
Meanwhile the Independent devotes its front page to what it calls a "modern British murder", that of Bijan Ebrahimi, who it describes as "disabled, jobless and devoted to his garden".
When the 44-year-old who lived near Bristol photographed local youths apparently vandalising his flowers, it says "he was smeared as a paedophile, beaten up - and burnt to death". Two men have admitted their roles in his death.
Gothic city
Finally, the Daily Express reports that the travel guide, Lonely Planet, is urging people to "flock to Yorkshire and Scotland" after they came third in its new lists of the best regions and countries in the world respectively.
Edinburgh, it says, is described as "the most Gothic city outside Transylvania".
For the Times, "Yorkshire has been robbed"- third place is an injustice.
Though there is one consolation, it says: "Lancashire came nowhere".