Paper review: Police 'plebs' row back in headlines
16 October 2013

From the section

UK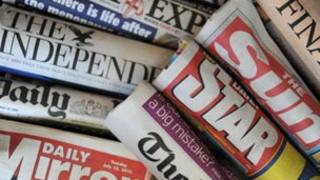 Home Secretary Theresa May makes it on to the front page of Wednesday's Times warning that the police risk losing all public trust in the wake of the so-called plebgate row.
In an editorial, the paper agrees that the affair is doing "severe damage", and says the police have demonstrated an alarming inability to hold themselves to account.
The Daily Telegraph says a key element of the citizen's contract with the state is fatally undermined if police cannot be trusted to behave honestly.
It wants the evidence in the affair tested in court, while the Guardian urges the police to come clean and apologise.
The Daily Mirror says many miners, strikers and demonstrators will feel little sympathy for Mr Mitchell but concludes that it should be a matter of concern if he was "stitched up" by the police.
Another story back in the headlines after the release of a police transcript is the Jimmy Savile scandal.
The police detectives who interviewed the late DJ in 2009 over sex abuse allegations are under fire.
The Sun calls the questioning "soft" and "fawning", the Guardian describes it as "deferential".
Savile "ran rings" around detectives, says the Daily Mail, adding that a more determined approach could have led to his prosecution.
'Close shave'
Meanwhile, the Telegraph quotes the head of Ofsted, Sir Michael Wilshaw, as saying bad parents are to blame for Britain's ills.
The Sun, though, says social care needs a nationwide overhaul.
The Times and Independent are among the papers to pick up on comments by Oxford University's director of admissions in which he says Michael Gove's changes to exams in England risk "wrecking the education system".
Michael Nicholson said that reforming both GCSEs and A-levels at the same time was an example of the government's tendency to meddle in things it should leave alone.
The Independent's front page cites new figures suggesting a tripling in the number of people in the UK turning to food banks compared with last year.
But it is the menace of multiplying recycling bins that rears its head on the front page of the Telegraph. It says households will be expected to separate items into at least four different boxes by 2015, because of EU regulations.
A confrontation between Hillary Clinton's bodyguards and a London parking warden features in the Telegraph and Daily Mail - among others.
The awarding of the Man Booker Prize to New Zealander Eleanor Catton is praised by the Telegraph, Independent and Times.
And England's nerve-jangling victory over Poland to send them to next year's World Cup makes many of the front pages.
The Mirror says it was a "nervy" experience. It was a "close shave" for the Sun. And the Times says the world is now at England's feet.
The Guardian urges fans to "hang out the flags, stock up the fridge and buy a new television" for the 2014 tournament.