Kenya attack: Sixth Briton dead in Westgate mall siege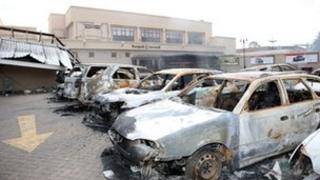 A sixth Briton has died following the siege at a shopping mall in the Kenyan capital Nairobi, the Foreign Office has confirmed.
At least 72 people are known to have been killed in the four-day attack at the Westgate centre.
The Foreign Office has said that it cannot rule out the possibility of further casualties.
A Foreign Office spokesman said: "Our thoughts are with the family at this difficult time."
The confirmed death toll after the three-day siege is 61 civilians, six security officers and five militants. Kenya's Red Cross says 61 people are still missing.
Forensic experts, including a team from the UK, have been combing the complex, looking for bodies and clues, since the siege - which began last Saturday - ended on Tuesday.
Official mourning
The role of the British forensic scientists, sent by the Metropolitan police, has been to support the British High Commissioner in Nairobi identifying British victims and to advise Kenyan authorities.
Their work will also be used to help coroners in the UK carry out the necessary inquests into the British deaths.
Kenya has observed three days of official mourning for victims after officials urged the nation to come together in the wake of the massacre.
Al-Shabab, an Islamist group based in neighbouring Somalia, is claiming responsibility for the siege.
Of the 11 people arrested so far by police investigating the attack, three have since been freed.
None of the dead Britons has been formally identified, but they are believed to include Ross Langdon, who had dual Australian and British nationality, and eight-year-old Jennah Bawa.
The Foreign Office had lowered the British toll to five on Thursday after it emerged that one of those previously identified as British was Kenyan.