Gibraltar: The thorn in British-Spanish relations
17 August 2013

From the section

UK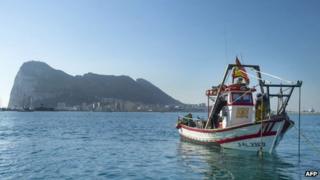 Spain and Britain are still talking tough on the issue of Gibraltar as the dispute over Spanish checks at the border continues. The BBC's Tom Burridge talks to people on the Spanish side and looks at the arguments dividing the two countries.
Basic realpolitik tells you that the dispute over the British territory of Gibraltar should cool down at some point soon.
Britain and Spain are NATO and EU allies. Hundreds of thousands of Brits live in Spain and many more spend their sun-baked holidays here.
Despite the awkward timing of a long-planned deployment of a fleet of British warships and other vessels, it is striking that their first port of call, before Gibraltar, will be mainland Spain.
But over the past two weeks, private phone calls followed by public statements on all sides that Britain and Spain are ready to negotiate have only ended in more threats, tougher language and continued long queues for people of all nationalities at the border.
Now both Britain and Spain seem resigned to the idea that the European Commission could be the way to reach some form of consensus.
'Hell would freeze'
In the wake of a legal threat by Britain over what London deems to be excessive border controls, Spain has denied the checks are a product of the dispute.
But the queues only grew, sometimes surpassing five or even six hours, after Gibraltarian authorities put a concrete reef into disputed waters.
The Gibraltarian government said the reef was designed to regenerate marine life.
Spain said it was a unilateral act designed to stop Spanish boats fishing there.
For the dispute to be resolved, Spain's director of foreign policy Ignacio Ibañez told us the reef would have to be removed.
Gibraltar's chief minister Fabian Picardo told us "hell will freeze over before the government of Gibraltar moves any of those blocks".
Spain and Gibraltar's uncompromising red lines over 70 blocks of concrete are part of the dispute, but it has escalated into something bigger.
Not a day goes by without the Spanish government talking publicly about the issue of tobacco smuggling across the border.
Now the Spanish interior minister has claimed Gibraltar "imported 140 million packets of cigarettes" last year.
Jorge Fernandez Díaz said it was "obvious that they were not all smoked by the residents of the British colony, nor its visitors or tourists".
He said 725,000 packets were seized by Spanish police at the border last year, 80% of which were hidden under "double-floors" in vehicles.
'Manufactured in Madrid'
But Mr Picardo said authorities in the British territory arrested nearly 300 people last year for possessing more than the legal limit of 100 packets of cigarettes - a crackdown he said was not matched on the Spanish side.
He said the Spanish government was simply using the issue of smuggling to engineer a dispute which did not exist just a few weeks ago.
"This has nothing to do with tobacco smuggling," Mr Picardo said.
"This dispute was manufactured in Madrid."
Gibraltar believes Spain's right-wing Popular Party government wants to widen the row to distract attention from its domestic problems and focus on the issue of the sovereignty of the British territory.
But what do Spaniards think?
A 40-minute drive up the coast from the Gibraltar-Spain border is the Andalusian town of Tarifa, which lies just outside the Campo area.
"I don't have anything against the people of Gibraltar, but I do have a problem with their government," says fishmonger Salvador Blanco.
"We have sympathy with the fishermen as our livelihood depends on them," he adds.
But on the issue of Gibraltar's sovereignty, he says he does not care.
"We have the territories of Ceuta and Melilla (Spanish enclaves in northern Africa)," he says.
"It doesn't make any difference to me that Gibraltar is British."
Then we meet 33-year-old Jose María Rico from Madrid, who, like many others at this time of year is on holiday in Tarifa.
'What the heck?'
"We always say that Gibraltar is Spanish," he says.
"It's like someone telling you that part of your body belongs to someone else."
Then, on Tarifa's long and windy beach, from which you can almost touch Africa, we bump into Luis Fernandez, who is spending his holiday with friends from England.
"I love the English, but what the heck are they doing here (Gibraltar)?" he asks.
But, he believes the Spanish government is using the dispute as a "smokescreen" to divert attention from a damaging corruption scandal.
"Rather than this [scandal], we have Gibraltar top of the news," he says.
Ironically most of the people we have met in long queues at the border are Spanish.
Between 6,000 and 7,000 people live in the part of Spain known as the "Campo de Gibraltar" just over the border but work in the British territory.
So sovereignty aside, Spaniards, Britons and Gibraltarians who need to cross the border all want the dispute to end.