Newspaper review: Papers lead with Egypt violence
15 August 2013

From the section

UK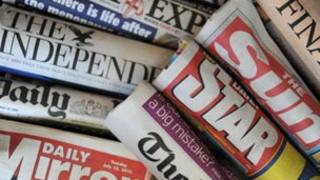 The violence in Egypt is the lead for many of the papers, with dramatic pictures of the clashes and bloodshed.
The Independent's headline describes it as "Egypt's day of shame". For the Times, it was Egypt's "day of carnage".
The Financial Times has the headline: "Day of bloodshed rocks Egypt."
It says the illusion that the military-backed interim government was willing and able to take the country to inclusive elections vanished amid the carnage on Cairo's streets.
The Daily Mirror concentrates on the fatal shooting of Sky News cameraman Mick Deane.
The Times says the ruthlessness of the security forces suggests that a sustained campaign to eradicate the Islamists is under way, and the state of emergency provides a useful window to press on with that task.
In the Guardian's view, military rule has been revealed for what it is and anyone thinking that it will be temporary or last for just one month has got to be supremely optimistic.
Calm and a national dialogue cannot be restored in that time, it says.
Bequest row
The Daily Telegraph leads with the official figures showing that the number of Romanians and Bulgarians working in Britain has risen by more than a quarter in three months, to 141,000.
The paper says this provides the first evidence of an influx of migrants even before border controls are lifted next year - and that citizens of the two countries are pre-empting the removal of restrictions in the new year.
For its lead, the Daily Mail says political parties are facing demands to review all bequests after the Conservatives and Liberal Democrats were "shamed" into handing back the legacy left by former nurse Joan Edwards.
Its headline asks: "How many more plundered wills?"
Labour MP Paul Flynn, a member of the Public Administration Select Committee, tells the paper that Miss Edwards's case casts a shadow of doubt over the intended beneficiary of other bequests left to the main parties.
Egg pelting
According to the Times, ministers spent up to £800m bringing in consultants and temporary staff last year despite giving big pay-offs to tens of thousands of civil servants.
It says departments are laying off workers but taking on expensive consultants to do the same jobs in a "revolving door" at the heart of the Civil Service.
Finally, the headline writers have a field day after Labour leader Ed Miliband was struck by an egg during his visit to a market in south London.
The Daily Mail and the Daily Mirror describe him as "Egg Miliband". The Sun goes for "Scrambled Ed".
The Independent, reflecting on recent criticism of Mr Miliband from within his party, says the incident showed there were "more cracks" in his leadership.
The Daily Telegraph says Mr Miliband took it all in good grace. And the Times, admiring his efforts to make light of what happened, says the egg pelting left the Labour leader "sunny side up".