IRA Hyde Park bomb: John Downey granted bail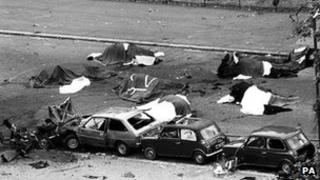 A man accused of murdering four British soldiers in the 1982 IRA bombing of London's Hyde Park has been granted conditional bail.
John Downey, 61, of County Donegal, Ireland, is charged with the murdering Roy Bright, Dennis Daly, Simon Tipper and Geoffrey Young on 20 July 1982.
The four Household Cavalry members were killed as they rode from their barracks in Knightsbridge.
The trial date has been put back to 14 January 2014, the Old Bailey heard.
Mr Downey, who was arrested at Gatwick Airport in May, also faces a further charge of intending to cause an explosion likely to endanger life.
The Old Bailey judge granted Mr Downey's release subject to him complying with 10 conditions.
They include providing £55,000 of bail money, wearing an electronic tag, living at a specified address with a curfew and reporting to a police station every day.
In court, Mr Downey, who has grey hair and a beard, spoke only to confirm his name and assure the judge that he would adhere to the bail conditions.
The bomb that Mr Downey is charged with planting was the first of two that caused carnage in London on that July day.
In the first incident, a nail bomb in a blue Austin car was detonated as the Household Cavalry members made their way through the park to the Changing of the Guard parade.
Four men and seven horses were killed and a number of police officers and civilians were injured.
In the second explosion, less than two hours later, seven Royal Green Jackets bandsmen in a Regent's Park bandstand were killed.