Flood alerts in Scotland and NI - and more storms on way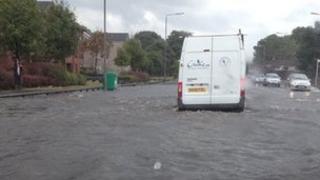 Scotland and Northern Ireland are braced for more heavy rain and localised flooding as forecasters warn of further storms hitting the UK.
The recent heatwave gave way to torrential downpours in much of the UK at the beginning of the week.
Glasgow and Ayrshire in Scotland, and Antrim and Down in Northern Ireland faced flooding on Thursday.
And, forecasters said, by Sunday a new storm could have spread from the Bay of Biscay and France to much of the UK.
The Met Office issued a yellow rain alert for east and south-east England - putting people on standby for heavy rain, travel disruption and surface water flooding.
Earlier on Thursday estimates suggested around 20mm of rain fell in parts of Scotland, with the Scottish Environment Agency putting out "be prepared" notices for much of the country.
Temperature still warm
Meanwhile, the Scottish Fire and Rescue Service was called to flash floods around the country and a fire in a block of flats in Greenock, thought to have been caused by a lightning strike.
The town was also hit by torrential flooding and firefighters pushed a motorist's vehicle to safety after he was trapped in it.
Greenock and Port Glasgow crew took 23 calls to flooded roads and gardens before water receded later on Thursday night.
And in Northern Ireland, the Consumer Council is advising anyone who feels their property is at risk to consider getting sandbags and moving important documents to a higher place.
Health trusts were affected after a central Belfast lightning strike on Wednesday temporarily knocked out some computer systems - although the company running the service said there had been no risk to patients.
BBC weather forecaster Chris Fawkes said people across the UK should prepare for a longer bout of "unsettled weather patterns".
"The low pressure just to the west of the British Isles could hang around for a couple of weeks," he said.
Our forecaster added that a storm moving north from France could hit the South East, East Anglia and the Midlands on Saturday and may reach Scotland by Sunday.
Temperatures, though, will remain warm for most of the country with a high of 24C (75.2F) expected in central and eastern England on Sunday afternoon.
July saw the longest spell of hot weather to affect the whole of the UK since July 2006 as temperatures exceeded 28C somewhere in the country for 19 consecutive days.
The highest temperature for seven years was recorded in west London earlier this month.