Your reaction to the royal birth
22 July 2013

From the section

UK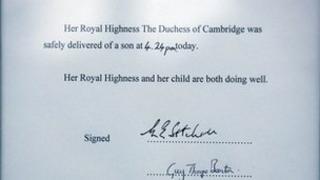 The birth of the Duke and Duchess of Cambridge's first child has been announced by Buckingham Palace.
The baby boy was born in the private Lindo Wing of St Mary's Hospital, Paddington.
He is third in line to the throne after Prince Charles and Prince William.
Here is some of the reaction from the UK and worldwide to the news of the baby's arrival.
Nicky, Dorset, texts: Congratulations to the Duchess of Cambridge and Prince William on the safe arrival of a baby boy. Glad to hear they are doing well.
Marian Agbeh, Atlanta tweets: We can all breathe a breath of fresh heir! A king is born! #RoyalBaby #RoyalBabyWatch #KateMiddleton
Ruth, Leeds, texts: In Leeds having some drinks with friends to wet the baby's head! Congratulations to Kate and Wills - mum and dad! Can't wait to see the family life unfold!
Brett Kelly, South Africa, tweets: Weird how someone can be the most famous person alive as soon as they are born #RoyalBaby #RoyalBabyWatch
Ryan Steel, Kilmarnocktweets: I don't know if I should or not, but I really don't care about the Royal baby. I'm happy for them, they have a kid, but it's just a kid.
Anthony Azemikatweets: Why do we care about the #RoyalBabyWatch ? Don't we have more important issues to be concerned about?
Fred Normanin Dumfries, Scotland, emails: Congratulations to every mother having their baby today. But to Kate and William, this is a more significant birth in the Royal Family since Prince William. So I say to those complaining, get a grip and realise just how significant this birth is for the United Kingdom, and let those who wish, celebrate the birth of our future monarch.
Samantha Womer tweets: Is it bad that I care way more about the royal baby watch than I ever have about a presidential election? #RoyalBaby #ItsABoy
Marilyn Harrison, Bristol, tweets: Alan Farthing my school friend from QE, Wimborne delivered Kate's baby! I was in the same biology class at school! #RoyalBabyWatch
Matt Mulekezi, Houston, TX, tweets: It would have been nice to see Princess Diana become a Royal Grandma. #RoyalBabyWatch
Dave Parfitt, Rochester, NY, tweets: Congratulations to all babies born today & everyday! You're all kings & queens w/ a world of possibilities in front of you! #RoyalBabyWatch
Amanda, Brazil, emails: I'm so happy for them! I have spent my whole day waiting for this beautiful news! May God bless this lovely family and the baby boy. My love to the Royal Family. I'm excited to hear what the baby's name will be.