Sun deputy editor Geoff Webster denies 'plotting misconduct'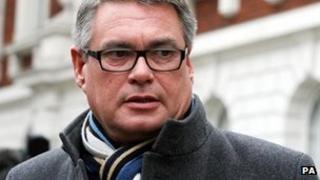 The Sun's deputy editor, Geoff Webster, has pleaded not guilty to authorising payments to public officials in return for information.
Mr Webster, 54, of Goudhurst, Kent, is accused of two counts of conspiracy to commit misconduct in public office.
He was arrested as part of the Met's Operation Elveden into allegations of illegal payments to public officials.
Mr Webster spoke only to enter formal not guilty pleas at the Old Bailey and was given unconditional bail.
One count alleges that he authorised one of his journalists to pay £6,500 to a public official between July and November 2010.
The other count alleges he authorised a payment of £1,500 to another "unknown" official in November 2010.
Operation Elveden is running alongside Operation Weeting, the investigation into allegations of phone hacking and Operation Tuleta, which is looking at computer hacking and other privacy breaches.