Duke of York praises Afghan forces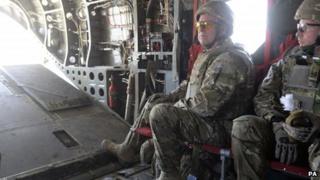 The Duke of York has praised Afghan forces for rising to the challenge of taking on their country's security, as he visited UK troops on the front line.
Prince Andrew met personnel at various bases in Afghanistan over the weekend.
He told the British Forces Broadcasting Service (BFBS) the training provided by UK forces to their Afghan counterparts "stood them in good stead".
On his Twitter page, the duke said he had visited all three services and was "very proud of their work".
The duke, a former Royal Navy helicopter pilot who served in the Falklands conflict, flew to Camp Bastion in Helmand on Saturday and stayed overnight before travelling to Main Operating Base Lashkar Gah and Kandahar Air Field. He flew home on Sunday evening.
'Enduring operation'
Nearly 8,000 British troops are still serving in Afghanistan, around half of them based at Camp Bastion. All combat operations are due to finish by the end of 2014, with responsibility being transferred to Afghan forces.
Over the past year, British personnel and their Nato allies have focused on training the Afghan security forces.
While in Lashkar Gah, Prince Andrew visited the Police Mentoring and Advisory Group which supports the Afghan police and is formed from The Royal Highland Fusiliers, 2nd Battalion The Royal Regiment of Scotland (2 Scots).
The duke, who is Royal Colonel of 2 Scots, also had lunch with members of the battalion.
Captain Iain Curren, Adjutant of 2 Scots, said: "It was a privilege to host His Royal Highness the Duke of York during his visit to 2 Scots.
"On each occasion the battalion has deployed to Afghanistan, His Royal Highness has shown us tremendous support by visiting both the soldiers in Afghanistan and our families back in Scotland."
Speaking to the BFBS in Kandahar, of which he is patron, Prince Andrew said: "It's absolutely vital that members of the Royal Family should come and visit troops on the front line. We try and come out once or twice a year to make sure the connection is there and maintained.
"The thing that has been driven home to me is that the Afghan army and police - having been presented with the fact that they are in charge - have risen to the challenge."
He went on: "The training that we have delivered them over the last two or three years has stood them in good stead and they are really well prepared for taking this on, and [for] an enduring operation for Afghanistan."
During the trip, Prince Andrew was also briefed by several commanders and met staff at the military hospital.
The Ministry of Defence said the duke was able to meet "personnel from 857 Naval Air Squadron, Fleet Air Arm, and reflect on his previous naval career experience compared to the unit's modern-day role".
Prince Harry, an Apache helicopter commander serving with the Army Air Corps, returned from a second tour of Afghanistan in January and the duke met some of his nephew's comrades.
The duke, who became the first member of the Royal Family to join Twitter earlier this month, tweeted on Monday: "I visited all 3 services @UKForcesAfghan in Afghanistan yesterday. Very proud of their work. I wish them all continued success."