Newspaper review: Papers focus on NHS shortcomings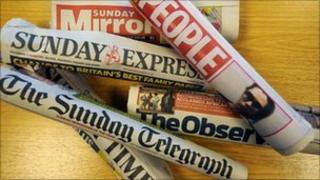 Many of the front pages focus on failings in the National Health Service.
The Sunday Telegraph leads with a claim that 13,000 people have died needlessly since 2005 at the 14 worst NHS trusts in England.
The paper says the failings will be exposed in a report later this week by the medical director of the NHS in England, Sir Bruce Keogh.
It says his report will show that the scandal of Stafford Hospital, where up to 1,200 patients died needlessly, was not a one-off.
That is also the lead in the Mail on Sunday which says Health Secretary Jeremy Hunt will condemn up to 10 of the hospitals as "failed regimes".
Weekend deaths
The paper says regulators will issue warning notices and investigations ordering trust managers to improve standards quickly.
According to the Sunday Times, thousands of patients are dying unnecessarily because of the failure of Britain's hospitals to provide safe out-of-hours care.
The paper has compiled figures which it says show death rates rise by up to 27% at the weekend in some hospitals.
On a more positive note, the Independent on Sunday says a cure for cancer has "just got closer".
It says a tiny British company, based at Abingdon in Oxfordshire, has signed deals with two huge pharmaceutical companies which could lead to millions of pounds of support for its unique research into using the body's own immune system to fight the disease.
Wildlife habitats
According to the Sunday Express the government will this week unveil controversial plans that would let developers bulldoze precious wildlife areas if they build another wildlife haven in a different place at their own expense. It is apparently known as "biodiversity offsetting".
In an editorial, the paper says the government seems wilfully blind to the fact that wildlife habitats are forged through generations and cannot be simply re-created in a matter of months.
But a senior Whitehall source tells the paper that offsetting could help resolve stand-offs where there is a need for development, without the costly and lengthy legal deadlocks that have characterised these situations.
The lead in the Observer claims that David Cameron is facing calls from senior Liberal Democrats to sack his election strategist Lynton Crosby because of his links with the tobacco industry.
The paper says it understands that health ministers were almost uniformly in favour of plans for plain packaging for cigarettes, which were shelved on Friday, but says they were overruled by Downing Street.
It speaks of "open warfare in the coalition over health policy".
Secret novel
Finally, according to the Sunday Times, JK Rowling has secured another literary coup by secretly writing an acclaimed detective novel, posing as a first-time author named Robert Galbraith.
One reviewer described the book The Cuckoo's Calling as "a scintillating debut" while another praised the "male" author's ability to describe women's clothes.
She was rumbled when the paper decided to investigate how a first-time author could make such an assured debut.
Rowling tells the paper: "I had hoped to keep this secret for a little bit longer, because being Robert Galbraith has been such a liberating experience."