Newspaper review: Papers angry about MPs' pay rise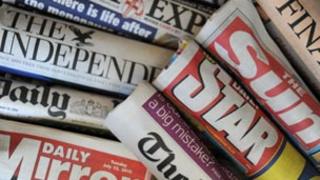 Many of the papers reflect on the recommendation that MPs should be given a pay rise of 11%.
The Daily Express believes it is "utterly unacceptable" for politicians to receive such a large increase at a time when "average earnings are not even keeping up with the cost of living".
The Sun echoes that sentiment, insisting that MPs should receive a zero increase in salary "until Britain's back in the black".
Michael Deacon, writing in the Times, says he looks forward to "government policies being 11% more effective, MPs' quips being 11% wittier, and Prime Minister's Questions being 11% more constructive".
The Daily Telegraph argues that the recommendations are not unreasonable - but it concedes that "the test of whether or not MPs are worth the extra income" will come at the next election.
Whitehall expenses
According to the Daily Mail, civil servants ran up a bill of £1.1bn last year by putting their expenses on taxpayer-funded credit cards.
"Plush hotels, gourmet meals and fine wines" were all included in what the paper condemns as a "wasteful spending" spree.
The money "would have paid for 52,000 new nurses", the paper states.
"The End is Nye" is how the Daily Mirror greets the news that health officials are closing the accident and emergency department at Trafford Hospital - the site where Aneurin Bevan opened the National Health Service 65 years ago.
Cricket records
There is much admiration for the Australian Ashes debutant, Ashton Agar, who scored a record 98 runs in the first Test at Trent Bridge.
Matthew Engel, writing in the Financial Times, comments that, while "his elders and betters had come and gone like headless kangaroos", Agar "batted freely, without panic or inhibition", leaving Wisden records in tatters.
The Times is equally fulsome in its praise - it describes how the 19-year-old spin bowler made it look as if dismantling the England attack "were the most natural thing in the world for a teenager with nothing better to do".
It suggests that many England supporters watching his efforts became "secret self-appointed honorary Australians" as they willed him to reach his maiden century.
Secrets safe
The Guardian prints new claims about America's surveillance operations, leaked by former intelligence contractor Edward Snowden.
It says Microsoft collaborated with the National Security Agency to help it access its users' online communications, even allowing it break its own encryption devices.
Microsoft tells the paper that it provides data only in response to legal processes.
The Daily Telegraph reports that the whistleblowing by Mr Snowden has prompted the Kremlin to revert to old-fashioned techniques to keep their secrets safe.
Officials at Russia's Federal Guard Service are said to be eschewing computers in favour of electric typewriters and expanding the use of paper documents instead of storing information electronically.
However, one expert warns that even the simple methods are not immune from danger - chiefly, the risk of fire.