UK troop levels in Afghanistan 'to fall to 6,000 by autumn'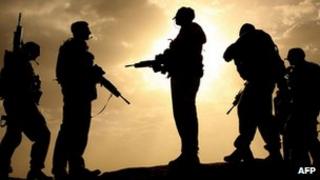 The number of UK troops in Afghanistan will fall to about 6,000 by the autumn, the defence secretary has said.
In a written ministerial statement, Philip Hammond said the announcement was in line with the government's previously stated aim to cut troop levels to 5,200 by the end of 2013.
The UK currently has about 7,900 troops stationed in Afghanistan.
All Nato operations are due to finish by the end of 2014, with responsibility being transferred to Afghan forces.
But the government plans to keep a small number of British troops in the country beyond that, working at an officer training academy and dealing with logistical problems such as returning equipment.
Mr Hammond warned the 6,000 figure could vary if "additional surges" were needed.
He gave details of the next deployment of UK forces in Afghanistan, Operation Herrick 19, scheduled for October, which will include personnel from regular units of all three of the armed forces.
About 400 reservists would also be deployed, he said, with the majority serving on operations for around six months.
As announced earlier this year, some troops deployed in October will serve for up to eight months, he said.
"This will remove the requirement to train and deploy an extra Brigade, at greatly reduced scale, to cover the final months of 2014," Mr Hammond said.
"It will also align tours to key milestones in the transition process, such as the Afghan presidential elections in Spring 2014.
"A small number of reservists may voluntarily serve eight months."