Royal prank call file given to Australian police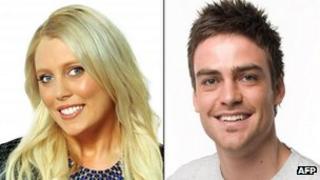 A file of evidence on a royal prank call linked to the death of a UK nurse has been handed to Australian police, Scotland Yard has said.
The hoax call was made by two Australian DJs to the London hospital where the pregnant Duchess of Cambridge was being treated for morning sickness.
The nurse who answered the phone call, made in December, was later found dead.
The UK Crown Prosecution Service decided in February that no legal action would be taken in this country.
But the Metropolitan Police said that they had passed a file to the Australian Federal Police and New South Wales police on Tuesday.
"The MPS has requested that consideration is given as to whether any offences were committed under Australian legislation," the Met added in a statement.
DJ sues
Nurse Jacintha Saldanha, 46, was found dead three days after Mel Greig and her then co-host Michael Christian called King Edward VII's Hospital, where Catherine was being treated.
Believing them to be the Queen and Prince Charles, Ms Saldanha put the DJs through to another nurse who gave an update on the duchess's condition.
Earlier, media in Australia reported that Ms Greig had sued her employer, Southern Cross Austereo, saying it failed to provide a safe workplace.
Ms Greig remains off air in the wake of the incident, but Mr Christian returned to work two months later.