Women bishops plan showing good signs, says Archbishop
9 July 2013

From the section

UK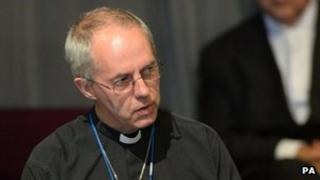 The Archbishop of Canterbury says there are "good signs" that the ordination of women bishops will be approved by the Church of England.
On Monday the ruling general synod voted to restart work on the issue, with the aim of final approval in 2015.
The Most Reverend Justin Welby said the new proposal respected different views within the Church.
When it is passed, "people of all parts of the Church will then have to live with the consequences," he said.
Previous attempts at creating similar legislation have been thrown out because of internal disagreements.
The archbishop told BBC Radio 4's Today programme: "We're at the very early stage but there are good signs at the moment."
He added: "There will be a series of principles which will be independently monitored and with independent mediation if people think they're breached - which will mean that those who hold a range of different opinions on the ordination of women as bishops are still able to flourish and develop."
He also said: "In the end when it goes through and is carried, people of all parts of the Church will then have to live with the consequences of that and work within the new principles we have.
"It's not 'like it or lump it' - I would never talk about people like that."
The traditionalists are not happy with the plan as the proposal moves away from enshrining concessions to the opponents of women bishops in the legislation itself.
The House of Bishops proposals suggest the concessions should be in a separate declaration by the synod or by the bishops.
Asked how difficult it was for him and for the Church, the archbishop replied: "It is difficult. People feel very passionately about this, and getting people who feel very passionately in opposite directions to work to a common objective is never easy.
"We all recognise that, whatever our particular view on this."