Ex-police chief Grieve admits allowing Duwayne Brooks recording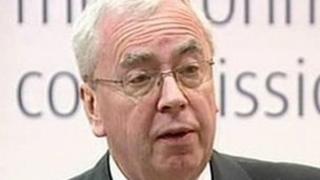 A retired senior Scotland Yard officer has admitted authorising a secret recording of a meeting between Stephen Lawrence's friend Duwayne Brooks, his lawyers and detectives.
John Grieve headed the Met's racial and violent crimes task force for four years and was also in charge of the inquiry into Stephen's murder.
He told BBC News he had wanted an "unassailable" record of what was said.
He said he regretted any distress to Mr Brooks or the Lawrence family.
Reports that the recording took place followed claims that police were ordered to find "dirt" on the Lawrence family in the years following the 1993 murder in Eltham, south London, witnessed by Mr Brooks.
The home secretary has ordered two existing inquiries to look at the allegations and the Lawrence family have demanded a public inquiry.
Former Met deputy assistant commissioner Mr Grieve said he authorised one recording in May 2000 as he wanted to keep an "unassailable record" of discussions with Mr Brooks.
He feared that if he had asked the other participants for approval to tape the meeting overtly it would not have been given.
He said he deeply regretted "any distress, dismay or alarm that my decisions may have caused".
Mr Grieve said: "Every decision made was based on the information available at the time and conducted within ethical, legal, necessary and proportionate frameworks."
He added: "It could be argued that failing to protect the integrity of any evidence that may have come to light at this meeting - and hence failing to protect Duwayne himself as a potential witness - would have been a neglect of duty.
"Our clear objective was to convict Stephen's killers and we felt that we had to use all permitted, ethical and legal means available to us in order to achieve that.
"We were not in the business of deliberately tricking anyone or deceiving anyone.... we prioritised the protection of any witness testimony that could have come to light at that meeting over the need for approval by others with potentially differing priorities."
'Relevant policy'
Last week, Scotland Yard began an investigation into claims that the police briefings attended by Mr Brooks had been secretly recorded at the offices of Deighton Guedalla, in Islington, north London, in 1999 or 2000.
In a statement, the Metropolitan Police said its Directorate of Professional Standards investigators had found documentation authorising the recording of one meeting in May 2000.
It said Mr Grieve authorised the recording and at this stage it believed the "relevant policy" had been followed.
The lawyer in the recording, Jane Deighton, has said she believed taping had taken place on more than one instance.
Ms Deighton and Mr Brooks - who is a Liberal Democrat councillor in the London borough of Lewisham - held talks about the allegations with Deputy Prime Minister Nick Clegg on Friday.
Mr Brooks was a witness for the prosecution at the Stephen Lawrence murder trials in 1996 and in 2011.
Gary Dobson and David Norris were jailed for life at the Old Bailey in 2012 after being found guilty of Mr Lawrence's murder.