No evidence Iraqis were tortured, pathologist says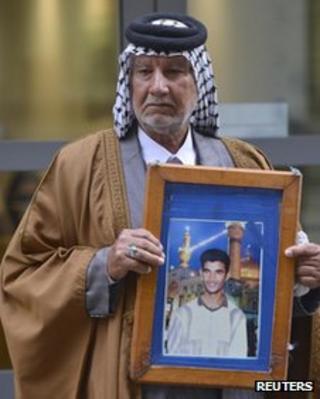 A Home Office pathologist has told a public inquiry that he has not seen any evidence to support claims that British troops tortured and killed Iraqis.
Dr Peter Jerreat examined photographs and DVDs of seven of 20 Iraqis killed in May 2004, and said their injuries were most likely to have been sustained on the battlefield.
He was testifying at the Al-Sweady Inquiry, which is examining claims that UK soldiers mistreated detainees.
The MoD vigorously denies the claims.
Dr Jerreat said it was possible to give a "valid opinion" on the nature of the injuries visible in the photographs.
But it was difficult to determine the cause of death without being able to carry out an internal examination, he added.
Asked if there was evidence of torture or mutilation when describing pictures of one of the bodies, he said: "No, I thought the injuries seen were entirely compatible with the sort of thing that might happen with weaponry or bullets."
The inquiry was adjourned until Tuesday morning, when the pathologist will continue to give evidence.
It was set up to consider allegations that a number of Iraqi nationals were abused by British troops in the aftermath of a firefight near Majar al Kabir, which became known as the battle of Danny Boy.
At a High Court hearing in 2009, Khuder Al-Sweady, an Iraqi national, alleged his nephew was one of those said to have been unlawfully killed in the custody of British troops at Camp Abu Naji between 14 and 15 May 2004.
Mizal Karim al-Sweady told the inquiry in March that his son Hamid - after whom the inquiry is named - appeared to have been tortured before he was killed, and he had seen bodies of other victims with a "combination of injuries" including "eyes missing, tongues cut out [and] teeth removed".
But the inquiry also heard that Mr al-Sweady had previously said he saw only one body with eyes missing and one with a broken nose.