Ofcom clears BSkyB over canoe case email hacking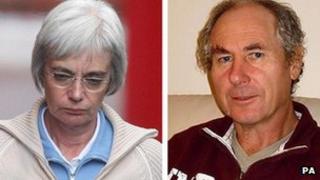 BSkyB has been cleared of breaching the broadcasting code after a reporter on Sky News hacked into the emails of fraudsters John and Anne Darwin.
Ofcom said the actions were "at the boundaries of what is appropriate" but "warranted in the... circumstances".
Sky News said the move was "editorially justified and in the public interest".
The Darwins were jailed in 2008 after the former prison officer faked his death in a canoeing accident as his wife cashed in insurance policies.
John Darwin, who was reported missing in March 2002, was arrested after handing himself into police five years later.
Sky News announced in April 2012 that it had authorised correspondent Gerard Tubb to "access the email of individuals suspected of criminal activity".
It said the decision to approve such a move was a "finely balanced judgement based on individual circumstances and must always be subjected to the proper editorial controls".
The hacking was said to have taken place in the run-up to the Darwins' trial and the material discovered was later passed on to police and used as evidence in court.
'Behaved responsibly'
Regulator Ofcom said neither Mr nor Mrs Darwin had complained but it had "a general duty" to investigate possible infringements of privacy.
It said although there was "current public concern about unauthorised accessing of voicemail and emails by journalists" the "exceptional circumstances of this case outweighed Mr and Mrs Darwin's expectation of privacy".
"The emails were accessed with a view to detecting or revealing a serious crime in circumstances where there appears to have been a real prospect that the relevant evidence would go unnoticed by investigating authorities...
"BSkyB behaved responsibly once it had obtained the emails, passing them to the police and ensuring that there was no publication until after proceedings had concluded."
In its response to Ofcom, BSkyB said Mr Tubb decided to access the email accounts "in order to demonstrate that Mrs Darwin was not the innocent victim that she portrayed publicly and that she had been involved in the deception".
Gaining unauthorised access to an email account is a criminal offence under the Computer Misuse Act.
But the Crown Prosecution Service said in March it would not be bringing any charges.
"It is not possible to ascertain whether the potential offence of unlawful interception of a communication was committed in the UK or the US," said the CPS.
"Although this may warrant further investigation, it has been decided... that further investigations are not required as, in accordance with the DPP's guidelines, we do not consider that any potential prosecution would be in the public interest."
BSkyB is 40% owned by News Corp, which decided to close the News of the World in 2011 over phone hacking by the newspaper's journalists.