Glastonbury 2013: John Humphrys at his first festival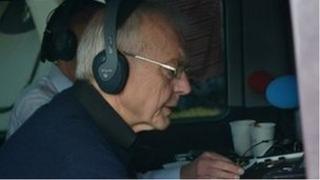 It's five o'clock in the morning and John Humphrys is striding purposefully past Glastonbury's Pyramid stage.
A festival first-timer, he has foolishly discarded his wellies in favour of a pristine pair of brown leather walking boots. They won't stay spotless for long.
"I didn't know we were going to be walking through a field," grimaces the 69-year-old.
A ferocious interrogator of politicians and deposer of director generals, Humphrys has little interest in modern music - "I like the classics, Mozart, Beethoven, Bach" - but he has seen headliners the Rolling Stones once before, at Madison Square Garden in 1972, when he was the BBC's first full-time television correspondent in North America.
"They blew me away," he says - although he seems more keen to talk about the time he met Duke Ellington in the loo at the top of the Rockefeller Centre.
'He's a nice bloke'
The reason for the early start is Saturday morning's Today Programme, which he is co-presenting from Glastonbury, where he has an exclusive interview with Mick Jagger (on tape - "Sir Mick isn't going on air before his Cornflakes").
"He's a really nice bloke," says Humphrys, with genuine surprise. "I thought he was going to be a bit of a… you know. But he was very pleasant."
But before anyone can hear the interview, Humphrys has to find the BBC radio car - a compact Mercedes van with a boot stuffed full of wires and aerials and lights that go on, and then go off again.
It appears to have vanished, so Humphrys does what any regular festival-goer would do: He heads to Lost Property.
The office is a ramshackle barn attached to the Eavis's farmhouse. It houses not only lost items, but lost children and lost souls - several of whom are sprawled under blankets looking particularly peaky.
They haven't got a BBC car, but they do have a landline, which allows us to track the engineer down.
Humphrys quickly sets up in the back of the van. The doors will be kept open during the show, it's decided, for a bit of festival atmosphere.
"Can you do some drunken carousing in the background?" he asks the nearby campers. "It doesn't have to be in tune."
On the phone with London, there's some bartering over the running order. Can the newspaper front pages be sent over, Humphrys asks. They arrive as scans on text messages, while the production team scavenge for a login to The Times' website.
'I'm in love'
Laptops are whipped out and scripts fired back and forth over a frighteningly flaky 3G connection until, at 6:30am, Humphrys announces: "That's the first hour written".
Then he spots another item at the end of the running order and says: "Oh, I'm doing breast feeding too.
"Well, I'm nothing if not adaptable."
Affable and good humoured off air, as soon as the red light comes on, he transforms into the familiar interrogator, who hounds the nation's politicians in front of seven million Radio 4 listeners most mornings.
Health minister Dan Poulter is hauled over the coals when discussing the UK's shortage of midwives. The producers in London get a similar grilling over running times, statistics and, in particular, their use of the phrase "joined-up development" in a script.
"If you've got the time to write a considered script, I think you should," Humphrys explains off-air.
"We do speak a load of jargon in this job. The government is full of it, too, and it would be nice if we tried to speak English.
"Joined-up development? What the hell is joined-up development?"
By contrast, Glastonbury poet Kate Fox is given a warm off-air briefing before her interview.
"You've got to be funny and witty and lively and make up for me."
Two hours zip past. Glastonbury boss Michael Eavis stops in for an impromptu chat on the way to his morning swim, and the team pore over the incoming tweets.
"Mick Jagger on #r4today," says Abby Hollick. "This should happen every morning. He should do thought for the day."
Others are less complimentary. They don't feel the BBC's flagship news programme should stoop to covering a rock festival.
"I'm already being criticised apparently for being uncritical, not finding anything nasty to say about it," says Humphrys, "but it's actually quite difficult.
"It's a great experience, isn't it? It doesn't much matter if you're terribly interested in rock music, which I'm not, but you get carried away in the spirit of the thing, in spite of yourself, almost."
He is particularly taken with folk trio The Staves, who close the show by performing their song In The Long Run.
"The harmonies were exquisite," he tells them, after the show ends.
"I'm in love," he adds, after they've left.
Despite the setting, was this a typical outside broadcast?
"Well, nothing worked," he says. "The printer didn't work so I didn't have any scripts; the computer connection thing was no good; I didn't have a clock because the clock went barmy.
"So, yes, it was fairly typical."
Job done, Humphrys returns to his tipi to collect his girlfriend, journalist Catherine Bennett, and see the rest of the festival.
He's intrigued by the goings-on, and excited by the prospect of seeing The Stones again - but one aspect of Glastonbury pains him.
"I own a farm," he says, "and I'm looking at these fields - which will fill a lots of hearts with delight - but what I see is the litter and the mess and I weep for the farmer.
"Of course it'll be put right, and fields are very forgiving - but, oh lord, I'm bleeding inwardly as we speak."