Archbishop Welby 'lacked time to visit Bethlehem'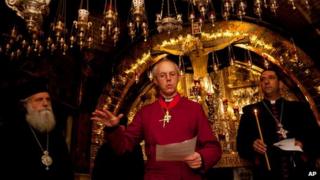 The Archbishop of Canterbury has suggested that scheduling difficulties prevented him from visiting Bethlehem on his recent tour of the Middle East.
The Most Reverend Justin Welby took to Twitter to say that he had "wanted to stay longer and go further, see old friends in Bethlehem".
It followed reports some Palestinian Christians were angry at the omission.
A Palestinian Christian spokeswoman called for the Church to speak out more on behalf of Christians in the region.
During the visit, Archbishop Welby met fellow Anglican bishops and visited holy sites in the Old City of Jerusalem, including the Church of the Holy Sepulchre, the Western Wall, and the Temple Mount or Haram al-Sharif.
'Frequent indignities'
The archbishop's visit to Israel's Holocaust memorial, Yad Vashem, where he was reportedly given details of a distant Jewish relative who was killed in the Holocaust, had been "too much for words", he said in his tweet.
The archbishop also said he had been "deeply moved" by his visit to Ramallah, where he attended the opening of a community-based diabetes clinic run by the Anglican Diocese.
He also met the leader of the Coptic Orthodox Church in Egypt, Pope Tawadros II, as well as Muslim and Jewish leaders, on his five-day trip.
But reports in the Times and the Guardian contained strong criticism from local Christians of the archbishop's position that he had not had time to visit Bethlehem and Nazareth.
Nora Carmi, of the Kairos of Palestine Christian group, called for the Church of England to "call a spade a spade" over persecution of Christians.
"When you have one group who is really being oppressed you have to have the courage to say they are being oppressed," she told the BBC.
"We're hoping that the new archbishop can be more vocal."
Following the newspaper reports, Lambeth Palace said Archbishop Welby had spoken about the plight of the Palestinians during his tour.
It said that, while travelling to Ramallah from Jerusalem on Thursday, he had passed through the Qalandiya checkpoint and said later in a speech: "Every time I visit this region, I am struck again by the need for justice and security and peace for the Palestinian people.
"It is a need that is shared by all the people of the region."
Referring to checkpoints, he spoke of "the frequent indignities that are suffered by people who deserve only dignity and respect like all human beings should have".