Pets 'dumped to avoid summer holiday care costs'
26 June 2013

From the section

UK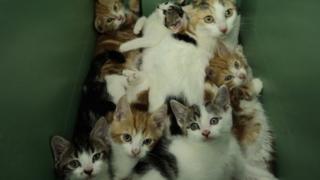 Increasing numbers of animal owners in England and Wales appear to be abandoning pets rather than paying for care while they go on holiday, the RSPCA has warned.
Evidence suggested an annual rise in abandonments in the summer months was also down to people prioritising "treats" over paying for vets, it said.
It said there was a 34% overall rise in pets being dumped since 2010.
Since May, pets had been abandoned in bins, boxes and a cemetery, it added.
'Simply discarded'
"Evidence from the RSPCA and other animal charities suggests some people chose to get rid of their pets rather than pay for them to be looked after while they are on holiday," the charity's Calie Rydings said.
"In other cases, money may be spent on holidays and other summer treats rather than seeking vet attention for ill or newborn animals, so they are simply discarded."
The charity said unusual places pets had been found in the past two months included:
Chinchillas in a cage in a cemetery
A terrapin left in a bucket in a children's playground
Young rabbits discovered in a plant pot inside a shopping bag
A dog dumped in a duffel bag
Mother cat and kittens left in a wheelie bin
In another case, a man walked into a supermarket and asked a woman to hold his cat while he called the RSPCA. He never returned.
In 2012, the charity was called to 37,206 cases of animals being abandoned, compared with 28,162 in 2011 and 27,755 in 2010.