Moors Murderer Ian Brady banned from carrying pens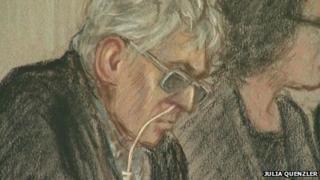 Ian Brady is banned from carrying pens in case he uses them as a weapon after a confrontation at his secure mental hospital, a tribunal has heard.
The mental health tribunal assessing the Moors Murderer heard he would carry the pen clenched in his knuckles, at Ashworth secure hospital in Merseyside.
Brady, 75, wants to be transferred to prison where he hopes to have more control over when he dies.
He has been on hunger strike since 1999 and is fed through a tube.
The 75-year-old wants the tribunal to judge that he is no longer ill so he can move to prison - where he hopes he will not be force-fed, so he would be able to try to starve himself to death.
Brady and his partner, Myra Hindley, tortured and murdered five children, aged 10 to 17, between July 1963 and October 1965, burying some of their victims' bodies on Saddleworth Moor, near Manchester.
Brady was first sent to the Ashworth in 1985 after being diagnosed with paranoid schizophrenia, suffering delusions and hallucinations.
He is separately considered to have a separate and severe personality disorder, in common with many of the most dangerous murderers in prison.
'Nocturnal existence'
At the second day of the tribunal, the panel heard that Brady had been involved in a confrontation after he believed another patient was slamming a door and directing pig noises at him. Nurses said the other patient was sitting reading a magazine.
The incident escalated to a confrontation in which Brady brought a pen close to someone's face.
Eleanor Grey QC, for Ashworth, said Brady either lied about hearing pig noises or was deluded.
Dr Adrian Grounds, an independent psychiatrist called by Brady's legal team, said it was a paranoid response. But he had found no signs of continuing schizophrenia.
Brady isolates himself, sometimes sleeps in his clothes on top of his bed and talks to himself in his room to prevent his voice becoming "rusty".
Miss Grey told the hearing: "He's got a nocturnal existence really, only coming out at night time when other patients are not there."
'Determined protest'
Dr Grounds said that none of the hospital's evidence was absolutely symptomatic of a treatable mental illness.
He said that in 18 hours of interviews over 10 years, he had concluded that Brady was not concealing hallucinations or suffering worsening mental health.
The rare occasions that indicated hallucinations were probably "residual symptoms" of his former illness.
Dr Grounds stressed that Brady's personality disorder meant he was aloof and contemptuous of those around him.
But his confrontational and abusive behaviour was "intensely focused" on life in the hospital and that "removing him from a context that he finds provocative and hates being in" may improve his behaviour.
"His refusal to eat has been a long-standing and determined protest against how he has been treated," said Dr Grounds.
"It's consistent with his personality disorder because it's part of a pattern of utterly determined pursuit of a cause or complaint."