Coldstream Guard laid to rest after 200 years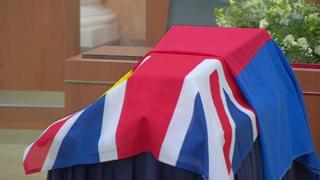 On Saturday, the nation will watch the Coldstream Guards take part in Trooping the Colour, in honour of the Queen's official birthday.
But this week, the regiment also laid to rest a mystery which it has spent several months trying to resolve as it finally re-buried one of its soldiers whose remains were discovered in the Netherlands in 2011.
At the Guards Chapel, the chaplain to the Household Division, the Reverend Kevin Bell, was joined by veterans of the Coldstream Guards as they took part in a solemn but unusual ceremony.
In the garden of remembrance, they laid to rest the ashes of a soldier whose body had lain buried for more than 200 years beneath the sand dunes of a Dutch beach, before they were disturbed and revealed.
A team of Dutch archaeologists identified the remains as those of a British soldier. They pinned down his regiment by his musket and pewter buttons, whose star and cross were unmistakeably those of the Coldstream Guards.
Several thousand British soldiers landed in the Netherlands in August 1799 as part of a force trying to restore the House of Orange to the Dutch throne and counter French influence in Europe.
Dutch archaeologist Esther Poulus narrowed the soldier's identity down to one of six Coldstream Guards known to have died on the first day of the campaign and got in touch with the regiment to alert them to his existence.
In a ceremony in the Netherlands, Capt Oliver Morley of the Coldstream Guards was entrusted with the remains in a child-sized coffin by the Dutch authorities and transported them back to the UK where they were cremated. The burial service was organised by the regimental secretary, Col Simon Vandeleur.
Although the soldier's exact identity may remain a mystery, his ashes were finally buried in the consecrated earth of home to the sounds of the Last Post in the presence of his regimental comrades - more than 200 years after his death.