Newspaper review: Papers agree Hester was forced out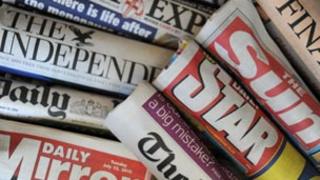 Who will volunteer to become what the Daily Telegraph calls a "national figure of hate" by following Stephen Hester as chief executive of bailed-out bank RBS?
That Mr Hester did not choose the time of his leaving is a general view. The Sun says the banker, who it says saved RBS, was "axed".
"Ousted" says the Independent - "Forced out" is the Guardian's verdict.
The Telegraph thinks it was the Treasury which intervened; the Financial Times says it was the bank's own board.
Bar spat
Mr Hester "deserved better" than the treatment he got, says the Times. But the Mirror believes his £5 million pay-off is "impossible to justify", though the Daily Express says he saved taxpayers "billions of pounds."
No other story receives such widespread coverage - except the bar-room spat between the man the Sun dubs "bad-boy Aussie cricketer David Warner" and the man the Daily Star calls "baby-faced" Joe Root of England.
The Mail calls the unfancied Australian tourists "punch drunk." But Sir Ian Botham in the Mirror says Warner has apologised and both sides should "move on."
Grim necessity
Different papers see a great variety of features in the latest fall in unemployment. The Daily Mail fears there is "no guarantee that the worst is behind us".
"Many in part-time jobs" it says "want to work full-time," and many of the over-65s still working "see their jobs as a grim necessity".
To the Express, the figures highlight "massive problems in our immigration and benefits systems".
The least skilled people have little incentive to find jobs, it argues, so long as able-bodied people are "given a long-term living income in return for doing nothing" and unlimited numbers of young workers from other EU countries are also entering the country to look for jobs.
The Times says the regulator's report on Network Rail makes grim reading, as it reveals that the company is about 20% less efficient than most of its counterparts across Europe.
The paper thinks the flaws lie in the way the company is organised, with no competitors, no shareholders and an arm's length relationship to ministers.