Newspaper review: US spy leak 'most important ever'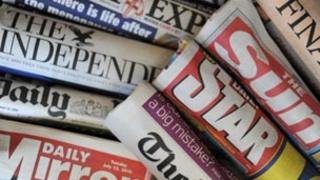 Tuesday's papers are full of further debate on Edward Snowden - the former CIA computer expert who spilled the beans on the US Prism surveillance programme.
The Daily Mail describes him as one of a new breed of whistleblower. Traditionally, spies who have leaked government secrets have remained in the shadows, the paper says.
But "not this 29-year-old geek," it says. Far from waiting for the dust to settle on his stunning revelations, he jumped into the limelight.
Daniel Ellsberg, who leaked the Pentagon Papers in 1971, writes in the Guardian that there has not been in US history a more important leak than Snowden's - and that, Ellsberg adds, certainly includes his own.
The Daily Telegraph reports that the United States is bracing itself for a drawn-out effort to extradite Mr Snowden.
According to the Times, the US has an extradition treaty with Hong Kong - where he has taken refuge - but Beijing has the power of veto.
Rupert Cornwell in the Independent asks whether China, which has been accused of stealing US electronic secrets, has the ultimate say in whether the leaker is extradited to face the justice of the US cyber-intruder.
Philip on the mend
Elsewhere, the Daily Telegraph leads with the results of a study suggesting 25 years of breast cancer screening has failed to significantly reduce deaths from the disease.
Although the number of women who die from breast cancer is steadily decreasing, researchers from Oxford University conclude that there is "no evidence" to suggest this is because of screening programmes.
Other factors such as better treatment are likely to be behind improving survival, they say.
According to the Daily Mail's lead, NHS staff involved in the Mid-Staffordshire care scandal could face prison.
It says police reviewing the deaths of patients at the NHS trust have identified up to 300 cases of suspected criminal neglect.
Detectives have spent weeks poring over patient deaths, finding horrific failures of care and unnecessary suffering, it adds.
Finally, many papers carry pictures of the Queen beaming after visiting the Duke of Edinburgh in hospital last night.
The Daily Telegraph says she wore a smile that suggested Prince Philip was on the mend.
She was clearly buoyed by the visit, the Sun adds, as the Daily Mail shows the monarch bearing a birthday card addressed to "HRH the Duke of Edinburgh" as she went in to see him.